Finally a blog post, after a week being sick in bed with the flu, it was about time. This time a recipe, which I end up preparing slightly differently the next time.
Avocado with egg from the oven, sounds heavenly, is super healthy and looks very tasty. I love avocados, in the sushi, on toast or in my smoothie. The recipe below is as you officially make avocado with egg from the oven. It is quite tasty, but the disadvantage is that when you heat up an avocado for a while, the flesh (yes, avocado is a fruit and no vegetables) becomes bitter. Something that is not mentioned in most recipes.
The solution is simple, the avocado does not go into the oven, but remains raw and you stir-fry the eggs. Also nice as breakfast!
Recipe Avocado with egg from the oven.
Ingredients (4 people).
2 ripe avocados
4 eggs (small)
Parmesan cheese
dried chives
salt / pepper / cayenne pepper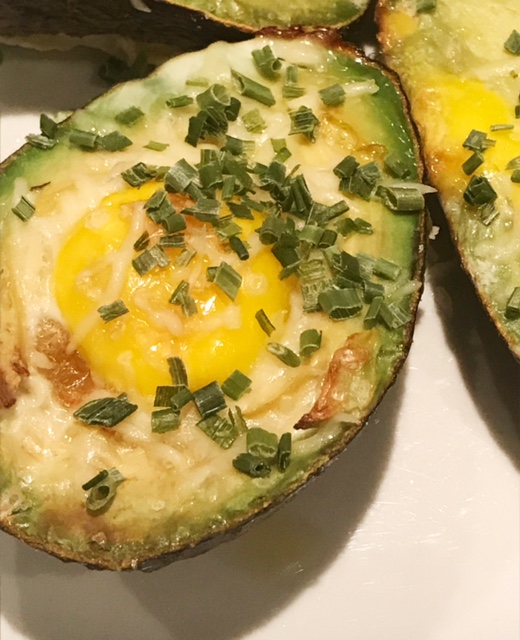 You can find the original recipe below, try it out. Some find it delicious others find the avocado too bitter. If so, stir fry your egg until done and fill the avocado with the egg. Grated cheese and chives as a topping and some pepper and salt or cayenne pepper for the taste.
Preheat the oven to 220 degrees.
Cut the avocado along the kernel into two halves and remove the kernel.
Dough the avocado a little deeper with a spoon so that the egg fits in well.
Put a small amount of butter or oil in the baking dish.
Place the avocado halves in the baking dish (preferably against each other so that they do not fall over).
Break an egg in each half of the avocado, exactly in the dimple.
Sprinkle with salt and pepper or cayenne pepper.
Sprinkle with parmesan cheese and chives.
The egg is done after about 15 minutes.
Enjoy your meal. XO Frieda.
2