In mijn gezin zijn ze allemaal gek op zelfgemaakte soep, heerlijk met stokbrood of kip uit de oven. Normaal gesproken maak ik altijd een goed gevulde kippen- groentesoep maar ik heb het vandaag over een andere boeg gegooid. Als basis gebruik ik bij iedere soep (kippen) bouillon en voeg daar gesneden ui en knoflook aan toe. Deze heerlijke soep is een gezond diner maar kan je ook prima eten als lunch, dit keer heb ik er afgebakken broodjes met kruidenboter bij geserveerd. Onderstaand recept is genoeg voor 6 personen.
Recept Tortellini Soep.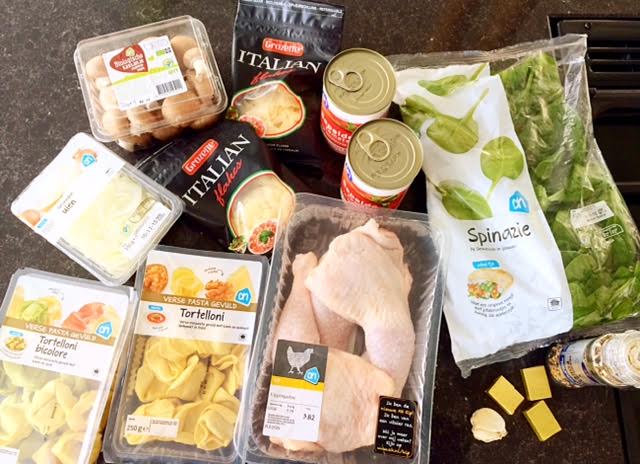 Benodigdheden.
3 liter water
3 blokjes kippenbouillon
1 gesneden ui (of een bakje van  150 gram voorgesneden ui)
2 teentjes knoflook
4 kippenbouten
250 gram (biologische) kastanjechampignons
2 blikjes gepelde tomaten (of tomatenblokjes)
2 pakken tortellini naar keuze 
1 zak verse en gewassen spinazie van 300 gram (kan ook met diepvries spinazie)
2 pakjes parmezaanse kaas à 100 gram
optioneel; kruiden naar keuze
Bereiding.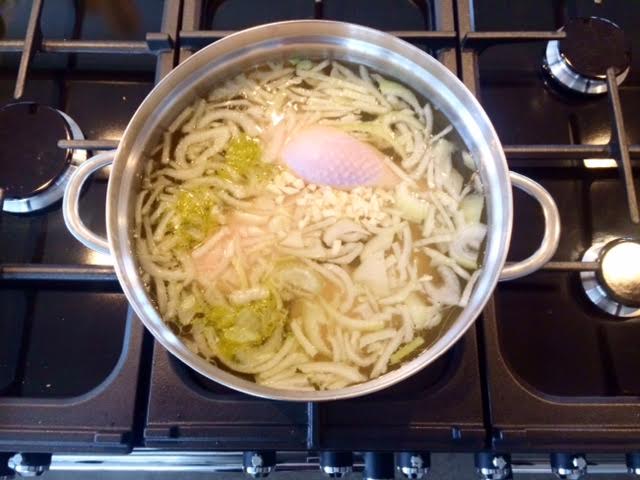 Breng 3 liter water aan de kook en voeg daar de bouillonblokjes, ui, knoflook en kip aan toe. Laat dit ca. 45 minuten op laag vuur doorkoken totdat het kippenvlees bijna van de botten valt.  
Haal de kip uit de pan en leg deze op een snijplank.
Snij de gepelde tomaten in stukjes (ik doe dit terwijl ze nog in het blik zitten).
Voeg de champignons, tomaten en tortellini toe aan het water en kook de tortellini volgens de verpakking.  
Trek ondertussen het kippenvlees van de botten en snijd de grote stukken fijn, doe de kippenstukjes weer terug in de pan.
Wanneer de tortellini bijna gaar is voeg dan de spinazie toe.
Kook alles nog even door en voeg eventueel nog wat kruiden of zout toe voor de smaak.
Strooi als allerlaatste stap per soepkom een handjevol parmezaans kaas als topping over de soep.
Eet smakelijk!
 Welke soep maak jij graag zelf? Let me know XO.
0