Black Friday and Cyber Monday are unfortunately over. Hopefully you could buy some great stuff with lots of discount.
Today it's time to put up an article about the beauty products that I've emptied. Last month I've emptied some of my favorite products such as Batiste dry shampoos and the Porefessional primer from Benefit Cosmetics. Also I've emptied a number of products that I've tested and that I will definitely purchase again, like the All-In-One Egg Mellow Cream from Too Cool For School.
Emptied November 2016.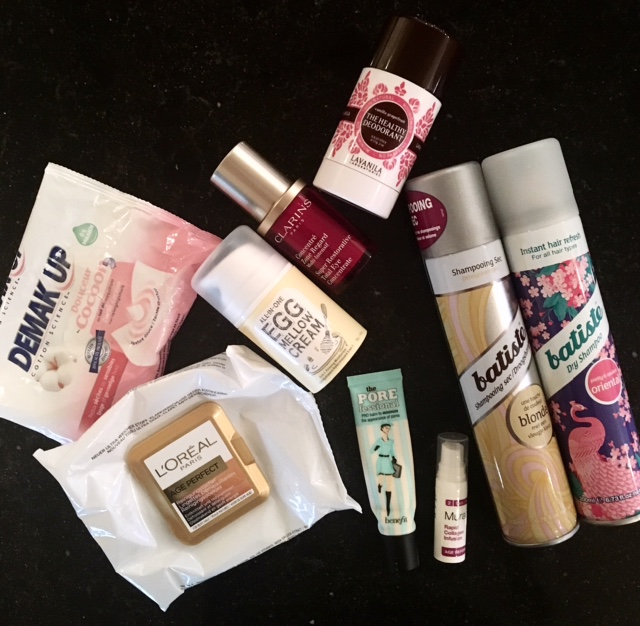 The wipes of demak up are very moist and gentle on your skin. Thoroughly remove all makeup and are especially good to remove your eye makeup. This variant is for dry and sensitive skin. 
Demak Up cleaning wipes are available at Bol.com for € 3,49 (25 pieces). 
When you are in your late thirties then you concentrate more on anti-aging products. These cleaning wipes from L'Oréal are for the more mature skin and contain vitamin C.
L'Oréal Age Perfect cleaning wipes are available at Bol.com for € 5,49 (25 pieces). 
Egg Mellow Cream is from the Korean brand Too Cool For School and comes in a handy container with pump. This is a very nice cream which I like to use as a sleeping mask. This cream is packed with collagen and provides a younger looking skin. The cream is a true multitasker because you can use it as a serum, moisturizer, eye cream and as a sleeping mask. It's strongly enriched with egg yolk extract to nourish your skin. Suitable for all skin types.
Egg Mellow Cream is available at Sephora.com for $ 36,00 (1.76 oz).
Not a cheap product but I've used this eye cream from Clarins almost every day for half a year. The eye cream has a lifting and firming effect on the skin and fills in wrinkles. Not only for under your eyes but you can also use it on your eyelids to look more awake.
Clarins Super Restoratice Total Eye Concentrate is available at Sephora.com for $ 84,00 (15ml).
I once wrote an article about healthy deodorants, or in other words, deodorants without aluminum. The brand Lavanila has 6 different deodorants and I've emptied the Vanilla Grapefruit. The best natural deodorant that I've ever tried and it smells great.
Lavanila The Healthy Deodorant is available at Sephora.com for $ 14,00 (50gr).
The Batiste Blonde I use for a very long time, review hier. This dry shampoo has a touch of color for blonde hair and is also available in a dark version. Gives volume and smells, like all Batiste dry shampoos, very nice.
About the Batiste Oriental dry shampoo I wrote a review recently. This variant has a warm Oriental fragrance, adds volume to your hair and absorbs oils.
Batiste Oriental is available at Douglas.nl for € 4,50 (200ml). 
Perhaps you've already seen my favorite primer passing by in my Instagram Stories. Tightens pores, reduces fine lines and provides a matte and soft skin. Contains silicone so that your makeup adheres better to your skin and vitamin E which prevents skin aging.
The Benefit POREfessional primer is available at Sephora.com for $ 31,00 (0.75 oz.)
The last product that I've emptied is the Murad Rapid Collagen Infusion. Again such a good anti-aging product but unfortunately isn't cheap. Hyaluronic acid reduces fine lines and collagen amino acids have a lifting effect.
Murad Rapid Collagen Infusion is available at Lookfantastic.com for $ 84,00 (30ml).
Those were all the products I've emptied in the last month. I want to try a different brand of dry shampoo than Batiste, someone tips for a nice dry shampoo?
Let me know XO. 
0