Oeuf and cocotte is a classic French recipe for breakfast, cooking eggs au bain in a souffle dish (ramekin). Nice as breakfast or brunch during Easter.
Oeuf cocotte recipe as Easter breakfast.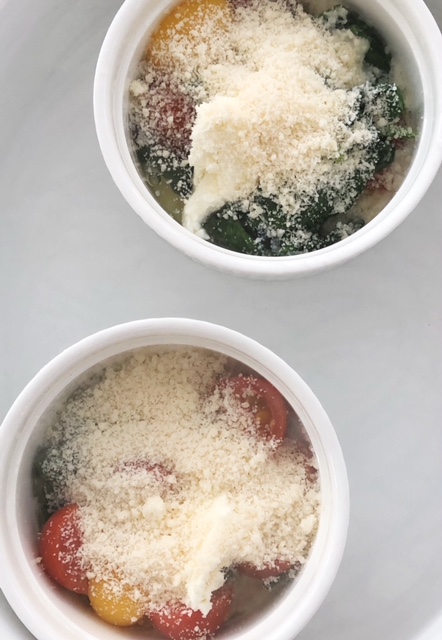 Ingredients for 4 people.
200 grams of fresh spinach
4 eggs
butter
2 shallots
1 clove of garlic
cherry tomatoes
parmesan cheese
100ml cream
4 soufflé dishes or other heat resistant dishes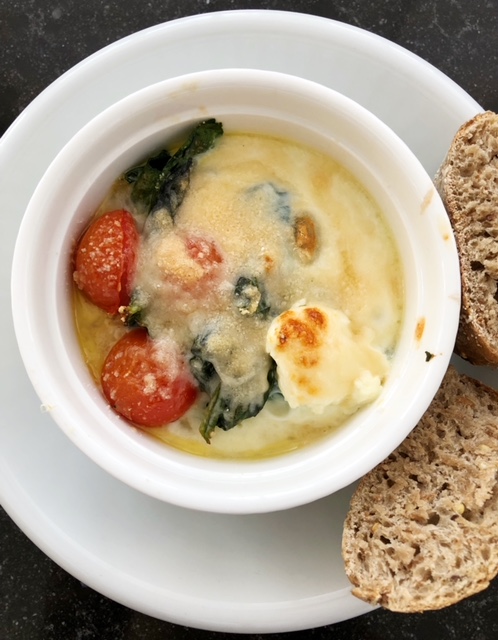 How to prepare.
Preheat the oven to 200 ° C.
Cut the shallots and press the clove of garlic.
Fry this together with the spinach until the spinach has shrunk.
Halve the cherry tomatoes and bake them briefly.
Put a small amount of butter in the dishes and spread the spinach mixture over the dishes.
Carefully break an egg in each dish so that the yolk stays intact.
Pour 2 tablespoons of cream into each dish and sprinkle with parmesan cheese + pepper and salt if desired.
Place the dishes in a large baking dish and fill this dish with boiling water until the dishes are half under water.
Put the eggs in the oven for about 10 minutes until the white has solidified and the egg yolk is still liquid.
Serve with baguette and herb butter.
Enjoy your meal, XO Frieda.
2