Every month, at the beginning of the month, I show you the beauty products I've emptied in the last month. In this blog post it's clear that I'm still a Alphaholic, Alpha-H is such a fine brand. There are many products that I've emptied and I hope you have something to the short description that I give to each product.
Emptied January 2017.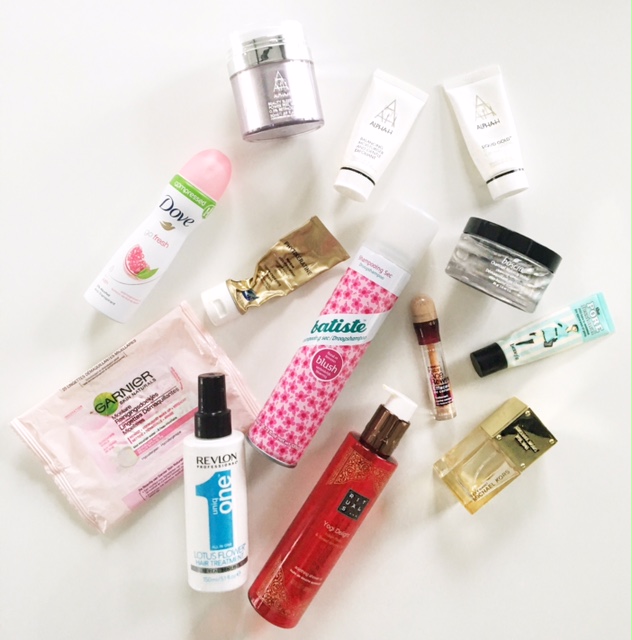 Clockwise, I start with the 3 Alpha-H products.
Alpha-H Beauty Sleep Power Peel is a night cream, peeling and face mask in one. This night cream contains no less than 14% Glycolic Acid. It exfoliates the skin and is effective against fine lines, pores and pigmentation. My review with detailed ingredients list you can read here.
Alpha-H Balance Moisturiser and Gentle Exfoliant is a cream and exfoliant in one with 10% glycolic acid. The antioxidants such as green tea and vitamin E protect the skin. The cream reduces skin aging and minimizes pores, acne scars and pigmentation. I've emptied the tester.
Alpha-H Liquid Gold Rejuvenating Cream is enriched with vitamin C and 10% glycolic acid. Restores the pH level of the skin, improves skin texture, minimizes hyperpigmentation and fine lines. I also emptied a tester of this product.
Alpha-H is available at Lookfantastic.com.  
Boscia Charcoal MakeUp Melter is a cleansing oil balm which I definitely will buy again. It contains charcoal that attracts dirt and oil like a magnet. Even mascara comes off easily and your skin feels soft. Doesn't clog the pores. You can read an extensive review on this product here.
Boscia Charcoal MakeUp Melter is available at Sephora.com. 
Benefit the POREfessional remains my absolute number 1 primer. Makeup stays on beautiful much longer, it blurs lines, reduces pores and gives a matte effect on the skin. You can read my last blog post about silicones in makeup and primers and why it's not bad for your skin here.
Benefit POREfessional primer is available at Sephora.com.
Michael Kors Sexy Sunset is a wonderfully warm floral scent with vanilla, sandalwood, jasmine and rose. I actually think all fragrances by Michael Kors smell great and this one, despite the name, can be worn throughout the year in my opinion.
Michael Kors fragrances are available at Bol.com. 
Maybelline Instant Age Rewind Concealer to me is the best concealer that you can buy at the drugstore. The concealer is well pigmented and has a fine sponge applicator. Working away dark circles and gives a fresh look.
Maybelline Instant Age Rewind Concealer is available at Lookfantastic.com. 
Rituals Yogi Delight is a soothing shower oil. This oil transforms into a silky foam and I like to use it while shaving as a kind of shaving cream. The oil smells like roses. An extensive review on Ayurveda collection, where this shower oil belongs to, you can read here.
Rituals Cosmetics is available at Lookfantastic.com. 
Batiste Blush Dry Shampoo has a nice floral scent with aromas of freesia, tuberose, orange blossom, peony and lily. Dry Shampoo is for me an essential beauty product, it gives my hair volume and a beautiful matte finish.
Batiste dry shampoos are available at Douglas.nl. 
Revlon Uniq One Hair Treatment is one of my favorite products from Revlon Professional, a review you can read here. I think this product comes in 3 different variants of which I love the Lotus Flower the most. It's a leave-in conditioner with 10 care benefits. I put it in my hair before I blow dry my hair.
Revlon Uniq One Hair Treatment Lotus Flower is available at Beautybay.com. 
Garnier Micellaire Cleaning Wipes are silky and are perfect for the last remnants of mascara. In the morning I always use wipes to clean my skin.
Garnier Cleaning Wipes are available at Bol.com. 
Dove Go Fresh with Pomegranate & Lemon scent is a compressed deodorant. Small in size making it ideal for in your handbag. The compressed deodorant Dove is available in different variants. They protect all day and keep your armpits dry. The moisturizing cream with vitamin E takes care of your skin.
Dove Compressed deodorants are available at Drogisterij.net.  
Phytokeratine Ultra-Repairing Mask by Phyto is a mask for damaged hair. I've emptied this in a small size as a tester and is certainly a mask that I'll buy. This mask restores and makes my hair soft without weighing it down. Contains two types of hyaluronic acid for an optimal hydration.
Phyto Phytokeratine Ultra-Repairing Mask is available at Lookfantastic.com. 
These were all the beauty products I've emptied in January. XO Frieda.
0