I show you again what I've emptied in beauty products last December. In that month I've emptied some products that might be interesting and which I think are very nice. By the way, I've decided to save you the emptied tube of toothpaste (whitening toothpaste every month the same by Parodontax);), we know that by now.
Emptied December 2015.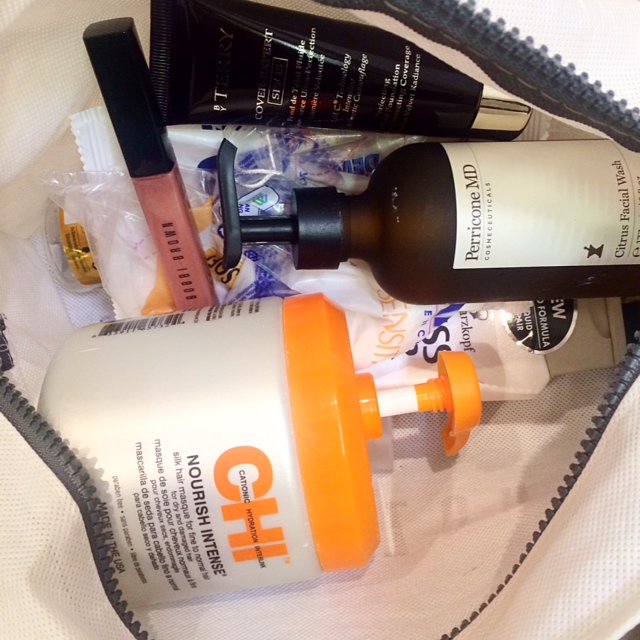 That big bottle of CHI hair mask pops out!
Emptied Haircare.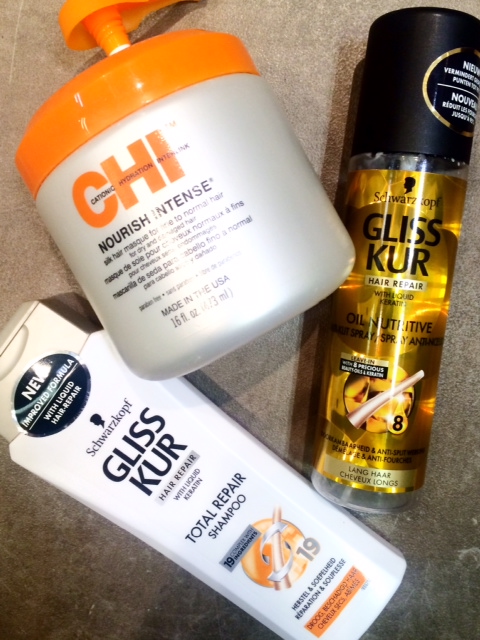 Actually I've only emptied one product and that's the Nourish Intense CHI hair mask. The other two are emptied by my children but I decided to include them in this post because I can recommend these to anyone who has quickly tangles in their hair (or daughters with long tangled hair). 
The CHI hair mask is a very intense nourishing hair mask that's suitable for fine and normal hair that's dry and / or damaged, there's also one for thicker hair. It makes your hair soft and smooth without weighing down your hair, your hair is nourished and hydrated and like all the other products by CHI this mask smells very good. The mask has the perfect balance of panthenol, silk and wheat protein. Panthenol attaches itself to your hair shaft so you get a nice shiny coat over your hair, panthenol also works antistatic, ideal for the upcoming winter months. Effective after five minutes.
CHI Nourish Intense mask is available at Nicebeauty.com for € 27,20 (150ml). Free shipping from € 19,95.
Are you troubled by tangles in your hair? Then this anti-tangle spray by Gliss Kur might be something for you. My daughter has very long hair and this spray is designed for long hair, it takes all the tangles from the hair and leaves hair silky smooth. It's intended to spray after washing on towel-dried hair, but I also use it on dry hair, works perfectly to unravel everything in the morning. The spray leaves no greasy residue and it includes 8 nourishing oils and keratin, so in addition to an anti-tangle spray it's also a leave-in conditioner.
Gliss Kur Oil Nutritive anti-tangle spray is available at DeOnlineDrogist.nl for € 5,59 (200ml). Free shipping from € 20,00.
My kids also use the Gliss Kur shampoo, this Total Repair shampoo is actually for dry and damaged hair which they both don't have, but it makes their hair soft and the shampoo smells very nice. The shampoo contains 19 active ingredients that condition the hair and the liquid keratin restores the hair where needed. This series of Gliss Kur also contains an anti-tangle spray with the same active ingredients but I haven't tried that one yet.
Gliss Kur Total Repair Shampoo is available at DeOnlineDrogist.nl for € 3,49 (34% discount) (250ml). 
Emptied Skincare.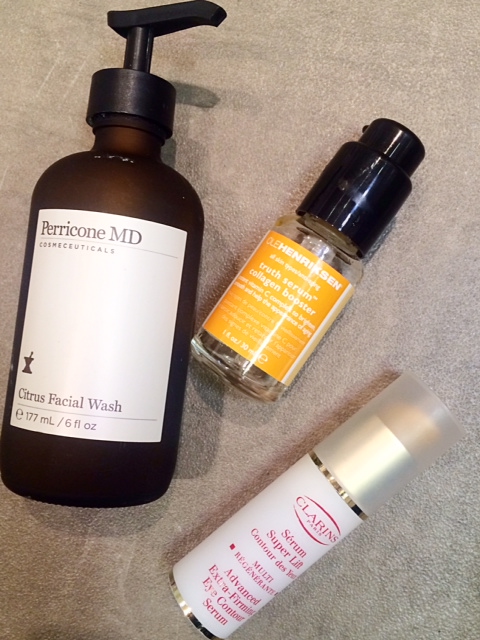 The eye contour serum from Clarins I've used for centuries, great stuff and so economical in use. The other two products I tested and I liked both a lot, the citrus facial wash from Perricone MD is one that I'm going to buy more often.
About the Citrus Facial Wash by Perricone MD I recently wrote a blog post. This face wash cleanses my skin thoroughly without drying out my skin. It contains Vitamin C Ester, a fat soluble Vitamin C that provides a fresh and bright skin that also reduces redness. The Citrus Facial Wash also contains DMAE, a powerful ingredient that makes skin firmer with a lifted effect.
Perricone MD Citrus Facial Wash is available at Feelunique.com for € 47,25 (177 ml). Use the code SALEONSALE for 10% discount (until Monday valid). Free shipping from € 15,00.
Last year I tested several products from Ole Henriksen including the Truth Serum Collagen Booster. This serum contains a whopping 10% Vitamin C, which is a lot, the concentration of Vitamin C in skincare should be at least 4% will it have effect on the skin. In addition, this serum also contains Vitamin E which strengthen the Vitamin C only more. The serum reduces fine lines and sun damage such as pigmentation. Suitable for all skin types.
Ole Henriksen Truth Serum Collagen Booster is available at Feelunique.com for € 53,93 (30ml). Use the code SALEONSALE for 10% discount (until Monday valid). Free shipping from € 15,00.
Clarins is a brand that I've been a fan of for years, now and then I change my night cream and eye cream but for years I only used the brand Clarins. This Clarins eye serum reduces puffiness and dark circles, the powerful serum renewed the skin around the eyes for a rejuvenating effect. I also like to use this serum on and around my lips because hey that's where you also don't want any wrinkles!
Clarins Serum Super Lift is available at Douglas.nl for € 49,95 (15ml) 10% discount. 
Emptied Makeup.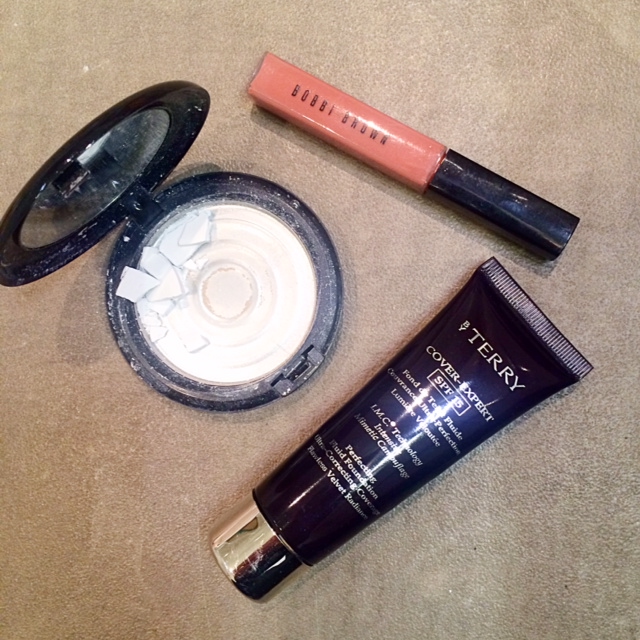 Usually I don't empty any of my makeup very fast because I've al lot of different colors and different brands. Only my foundation, lately I'm faithful to this foundation of the brand By Terry because I find it the best foundation ever (and that was a long search).
This By Terry Cover Expert foundation with SPF 15 I use in the color Vanilla Beige because I've a yellow undertone. This foundation melts with your skin, your skin looks smooth when it seems like you have no foundation on. The coverage isn't very high, but enough to give you a flawless matte complexion. I can't exactly put my finger on it, but the formulas of the foundations By Terry are like no other and give a super beautiful and natural result. Also ideal for combination skin that quickly shine (like mine).
By Terry Cover Expert Foundation is available at Feelunique.com for € 60,75 (35ml). Use the code SALEONSALE for 10% discount (until Monday valid). Free shipping from € 15,00.
About the MAC Prep + Prime Transparent Finishing Powder I've already written a blog post and is now, after a few pieces, unfortunately empty. This is the pressed version but is also available as a loose powder. Super nice powder to set your foundation with, the powder is very fine and gives a beautiful matt and smooth effect. This powder is transparent and therefore suitable for all skin colors and leaves no white film behind. Also nice to wear alone without foundation, conceals blemishes and fine lines.
MAC Prep + Prime Transparent Finishing Powder Pressed is available at Douglas.nl for € 21,50 (6,3 gram). 
I also already have a blog post about the Bobbi Brown Illuminating Nudes lipgloss, this is the color Buff, a natural warm color with lots of shine. Bobbi Brown has this lipgloss in 13 different shades which all contain soothing oils to keep your lips soft and moisturize.
Bobbi Brown Lipgloss is available at Douglas.nl for € 25,00 (7ml).
Emptied Various.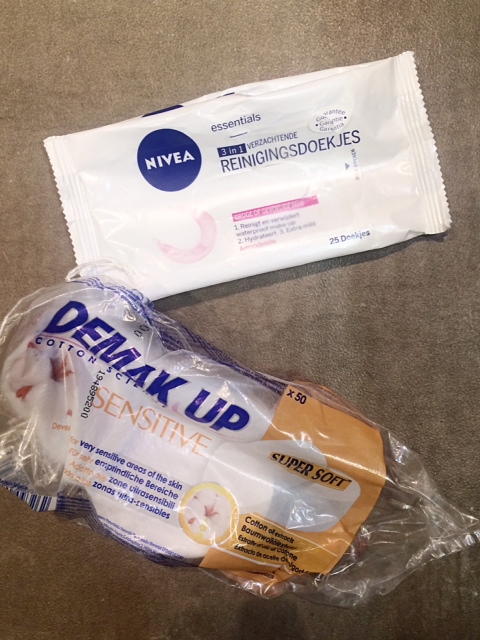 I've put these two under the header Various while it actually falls under skincare but I doubted whether I should mention at all (bit same story as the toothpaste;)). Anyway, again I've emptied a pack of cleaning wipes and a pack of cotton pads last month.
Nivea cleaning wipes are available at Drogisterij.net with 40% discount. 
Demak Up cotton pads are available at Drogisterij.net for € 2,45 (58 pieces).
What beauty products did you emptied lately? Let me know XO.
0