First, a Happy 2016 to everyone! May it be a great year for you filled with warmth, love, happiness and health.
I love heavy perfumes and I don't use them only for special occasions but just for every day. Perfume is something I use every day, like mascara! The new fragrance Black Opium by Yves Saint Laurent is the sequel to his bestselling perfume Opium and is such a wonderful heavy scent that you'll smell all day, a real Rock Chic fragrance with the addictive aroma of coffee and a hint of vanilla.
Yves Saint Laurent Black Opium.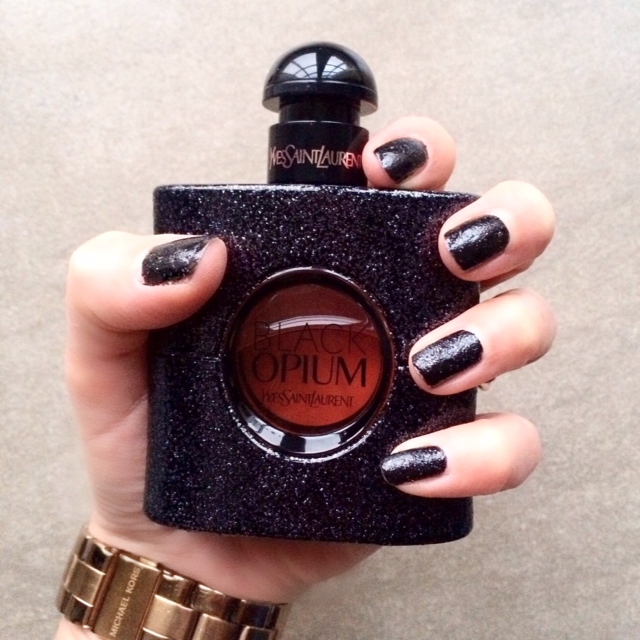 Can we just take a moment and look at how beautiful this perfume bottle is! Black with glitter, very chic. In the middle you see behind the YSL logo the amber color of the perfume. The bottle has a volume of 50ml.
Black Opium fragrance notes are; coffee, orange blossom, cedar and the sweet spicy note of patchouli. Now don't think that you'll smell all day like an espresso or cappuccino, the combination of fragrance notes is really delicious and makes it a sensual and warm fragrance.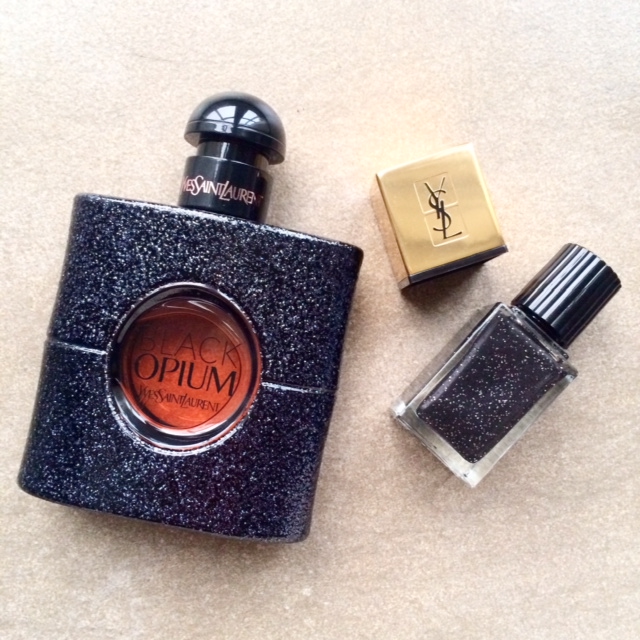 Last month there was a nice Christmas campaign with YSL, you could order the Black Opium perfume in a Christmas suitcase with a black nail polish from YSL, de La Laque Couture 59 Nuit Noire. A deep black nail polish with glitter like the perfume bottle. I think this special is now sold out but I wanted to show you this beautiful nail polish. The nail polish covers completely in two layers.
Conclusion.
This sensual and powerful perfume is really the kind of perfume that I love so much. Well present but not too overbearing, it's warm, mysterious and sweet. If you love sensual and strong perfumes than this perfume is perfect for you.
Yves Saint Laurent Black Opium is available at Feelunique.com for € 54,68 (30ml) or € 77,76 (50ml). Save 10%. 
The nail polish is currently difficult to buy, but with the perfume still on sale at Parfumwebshop.nl. 
0