Did you know that many women and men walk around with a vitamin deficiency and don't realize this? Poor nutrition, stress or following a diet can have a huge impact on your body, skin and hair. When your body doesn't get enough vitamins and minerals, your body will first stop your hair growth and divert nutrients to the organs that need it the most, causing a vitamin deficiency (source: Energetic Women's Academy, hair loss in women). New Nordic Hair Volume™ introduces a dietary supplement for beautiful, voluminous and healthy hair.
New Nordic Hair Volume
New Nordic Hair Volume™ has a unique formula, apple extract with procyanidin B2 combined with biotin, copper and zinc. The tablets nourish the scalp and hair root from within and thus contribute to healthy hair. For those who have difficulty swallowing pills; delicious GUMMIES are now also available for the maintenance of beautiful, voluminous and healthy hair.
The unique composition of New Nordic Hair Volume™ has been clinically proven. It was developed from the desire to create a product with a unique composition including Biotin and Zinc; two minerals known for their ability to contribute to stronger hair and nails.
A scientific study of New Nordic Hair Volume™ confirms its positive effects. Hair thickness improved in the test subjects in just two months and the number of new hairs per cm² increased. Self-assessment of the use of Hair Volume™ revealed that 9 out of 10 women were satisfied with the product and would recommend it to others (source: Hair Volume ™ Clinical Research, Paris, October 2018).
The Story of New Nordic
New Nordic is a Nordic-based company with unique know-how in medicinal plants. New Nordic was founded in 1990 by Karl Kristian Bergman Jensen. His dream was to build a company that would develop herbal preparations to add vitality and years of life to our existence. In 1992 Marinus Blåberg joined the company as co-owner: the start of a long friendship and business adventure. The New Nordic passion is to help people all over the world live healthier and better lives by developing innovative, effective nutritional supplements and cosmetics, from the power of nature. And all this in a way that is not only good for people, but also for nature itself. Almost all New Nordic products are produced in Scandinavia.
De Gummies zijn Yummie
Ideaal voor hen die moeite hebben met het slikken van tabletten: New Nordic Hair Volume™ Gummies. De lekkere gummies dragen bij aan het behoud van dik, sterk en gezond haar. Procyanidine B2 en paardenstaartextract ondersteunen de haargroei en staan bekend om hun vermogen het haar van binnenuit sterk te houden. De gummies bevatten tevens biotine en zink, dat voedingsstoffen naar de hoofdhuid en haarfollikels brengt en zo bijdraagt aan het behoud van sterk haar. Slechts twee gummies per dag volstaan. De gummies bevatten geen kunstmatige smaak- of kleurstoffen en zijn vrij van gluten, lactose en soja.
Recommended daily dosage
Hair Volume™ tablets: 1 tablet per day during the meal.
Hair Volume™ gummies: 2 gummies per day, during the meal.
Do not exceed the recommended daily dose. A dietary supplement is no substitute for a varied diet and a healthy lifestyle.
Price and availability
New Nordic Hair Volume (30 tablets): € 25.99
New Nordic Hair Volume (90 tablets): € 66.85
New Nordic Hair Volume GUMMIES (60 pcs): € 22.61
New Nordic Hair Volume is available at ETOS, Holland & Barrett, G&W health stores, DeOnlineDrogist.nl and newnordic.nl.
Conclusion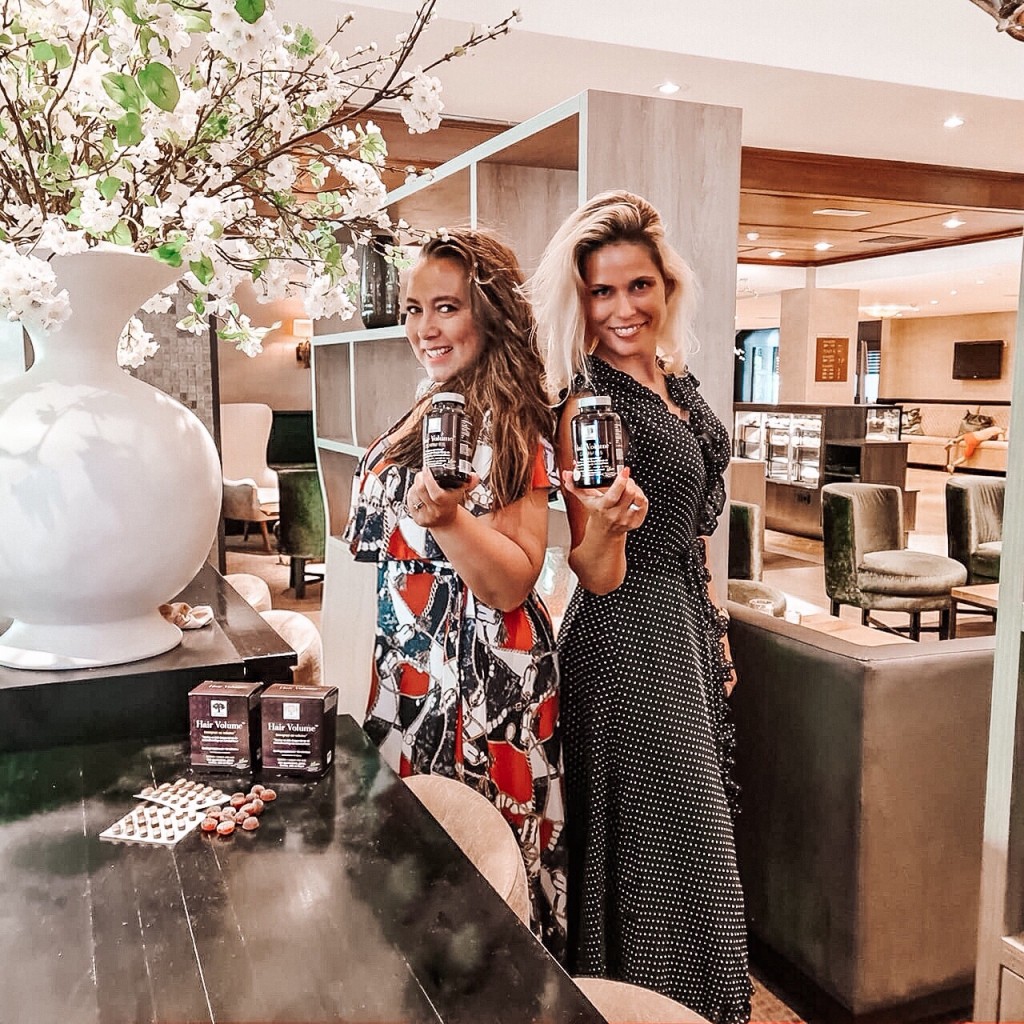 I actually treat my hair very badly. I bleach my hair monthly with a lot of highlights and in addition a hot hair dryer brush often goes through. Of course I take care of my hair with a good shampoo and conditioner, even before I blow-dry my hair there is protection. Yet this is not always enough. I strongly believe in beauty from within, if you don't take good care of the inside, it doesn't matter much what you put on your skin or in your hair.
A few years ago I had massive hair loss. This was after a period of stress and pregnancy. When you've been under emotional or physical stress, you may have noticed that a few months later you suddenly experience hair loss. Such a delayed response to stress is normal and often occurs a few months later. In that case, you will likely benefit from taking extra vitamins and minerals for your hair.
I started with the Hair Volume™ Gummies because they are super tasty and you can easily take them. I have been taking these gummies for almost 2 months, 2 a day. Where I mainly notice a difference is hair loss. My hair falls out much less and also seems to feel thicker. When you start taking supplements, you should keep in mind that it can take a while before you actually start to see a difference, because of our hair cycles. Hair grows about 0.3 to 0.4 mm every day, which equates to about 12 centimeters per year. Not all hair follicles grow up new hair at the same time. Hair growth takes place in a cycle. At any given time, each hair is in a different part of the cycle. It's good that this cycle is out of sync, otherwise we'd lose all our hair at once!
My dear friend Claudia Struijck has also tested New Nordic Hair Volume and you read her experience here.
XO Frieda
This blog post contains products that I received.
0