It is well known in our family that taking extra magnesium works on tired muscles. My husband benefits a lot from taking extra magnesium from tired and sore muscles in the legs. But magnesium has many other benefits and is recommended for everyone who wants to supplement their healthy lifestyle with an important mineral.
Floradix is well known to most of us. The most famous is the iron elixir, but Floradix has several variants on the market now. Recently I talked about the Floradix Detox cure as support to stay healthy during this time.
Floradix Magnesium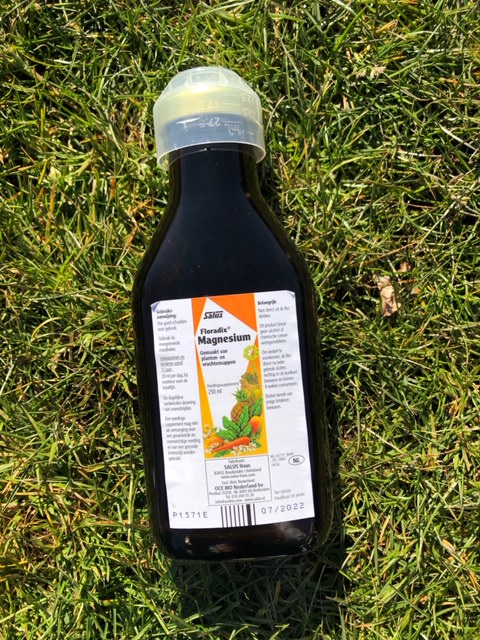 Floradix introduces Floradix Magnesium, a liquid elixir made from plant and fruit juices with an easily absorbable form of magnesium. Magnesium is important, this versatile mineral supports your body in many processes. As I mentioned, it is good for your muscles and keeps them supple, it also supports your energy level.
Magnesium is a multi-talent among the minerals: it controls various processes in the body. The mineral is naturally found in seeds, nuts and green vegetables. The nutrient contributes to the normal functioning of the nervous system and has a beneficial effect on the mood. In addition, magnesium promotes energy metabolism and contributes to the maintenance of strong bones. How great it is that Floradix Magnesium has succeeded in developing an easily absorbable form of magnesium in liquid form!
An overview of all the good properties of Floradix Magnesium:
Contains a magnesium mix in the form of magnesium gluconate and magnesium citrate. This makes it well absorbed in the body. The mineral magnesium is important for the muscles, nervous system and bone production.

One measuring cup provides your body with about 67% of the daily magnesium requirement.

Easy to take, perfect for those who have trouble swallowing pills, contains an extensive range of plant extracts (chamomile flower, fennel fruit, orange peel, carrot and spinach leaf).

All ingredients are dissolved in a fruity mix (water, pineapple, pear, mango, apricot, carobe extract, grape, lemon and apple), making Floradix Magnesium taste delicious!

Contains no chemical additives: no gluten or lactose, alcohol, preservatives or artificial colors and flavors – Floradix Magnesium is therefore a Clean Label product.

Also suitable for vegetarians.
USE
Shake the bottle well before use and use the measuring cup provided. Adults and children from 12 years of age use 20 ml per day, preferably before meals. Store the bottle upright in the refrigerator after use.
Personally I like the taste, and I prefer to use something in liquid form than in pill form, especially in the morning. Ideal now that we have entered spring and we can all use something that contributes to our energy level.
NB: A dietary supplement is not a substitute for a varied and balanced diet, as well as a healthy lifestyle.
XO Frieda 
This blog post contains products that I received.
0