Kérastase haircare is pure luxury for your hair. The products all smell so incredibly good and this professional brand has a treatment line for all hair types and hair needs.
The shampoo that I use right now is from their latest treatment line Specifique, Kérastase Specifique Bain Riche Dermo-Calm. This shampoo is especially for sensitive scalp and dry hair. I don't suffer from a sensitive scalp, but I do believe that it's important to take care of your scalp. The treatment line Specifique contains, in addition to this shampoo, even more products which should ultimately lead to stronger and fuller hair.
Kérastase Specifique Bain Riche Dermo Calm.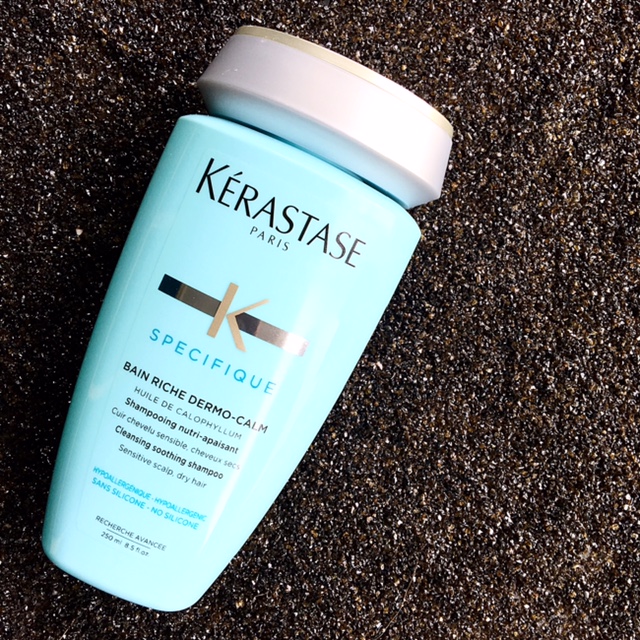 The shampoo moisturizes your hair and calms and purifies your scalp at the same time. Bain Riche Dermo Calm cleans your hair gentle and nourishes dry hair.
Ingredients. 
Calophyllum Oil; helps reduce irritation on the scalp.
Piroctone Olamine; reduces itching on the scalp.
Glycerol; relaxes and soothes the scalp.
Menthol derivative; refreshes the scalp.
The shampoo is silicone-free, hypoallergenic and dermatologically tested.
Conclusion.
I'm just always so happy with the shampoos of Kérastase. It doesn't matter which shampoo I try, it never disappoints. The Bain Riche Dermo Calm makes my hair soft and supple, and of course the smell is again fantastic. The creamy texture of the shampoo is mild but effective. If you have a sensitive scalp and / or dry hair then this shampoo is definitely recommended. Let the shampoo leave on you hair and scalp for a while before you rinse.
Available at Kerastase-usa.com. Now through the end of the month, enjoy a Nutritive Shampoo & Conditioner Deluxe Set PLUS free shipping with orders of $75 or more. Enter code KERNUT16 at checkout. Valid till 8/31/16.
Do you use a special shampoo? Let me know XO.
0