Our annual vacation with the children to sunny Florida went too fast. None of us was quite ready to go home! America is our favorite holiday destination and the Florida state is the warmest in the winter months and the least far to fly for us. Besides my pictures for our photo album I've also posted a number of images on my Instagram Stories these past two weeks.
Instagram Stories Florida Vacation.
Saturday, February 18.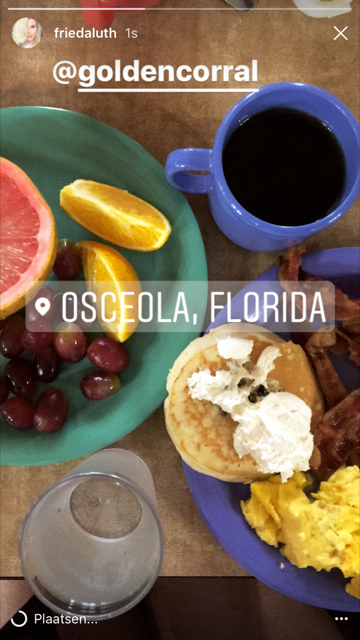 Friday night we arrived at our destination. Quickly bought some groceries and went to bed pretty early. It's 6 hours earlier in this part of America, so our biological clock was a bit off. The next morning we went to breakfast at Golden Corral, a buffet restaurant where you can have breakfast, lunch and dinner. Golden Corral Buffet and Grill restaurants are popular in America, a lot of good food for a nice price. You'll find locals, but also tourists, especially the Snowbirds and Canadians. I took a typical American breakfast of bacon, eggs and pancakes with whipped cream. To compensate all that unhealthy food also some fruit;).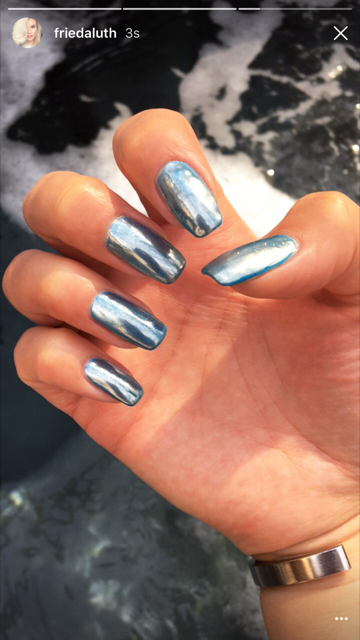 A day before the vacation I went to my nailstylist, I wanted chrome nails (also called mirror nails) with a blue undertone. In the garden of our vacation home was a jacuzzi where I spent a lot of the time with the kids the first days. Especially in the early morning it's nice twhen it's not so very hot outside. Check my chrome nails at the pool on my Instagram feed. 
Sunday, February 19.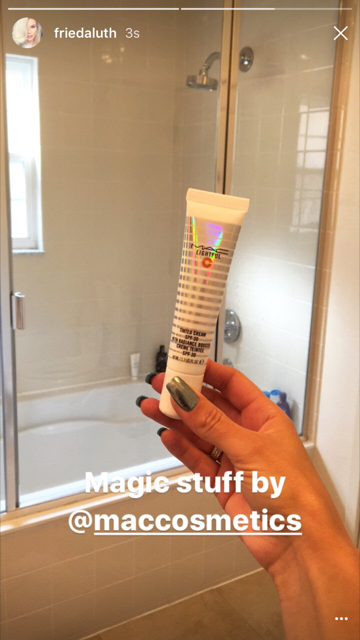 I get tanned very easily and don't suffer from a sunburn quickly, but unfortunately I'm prone by hyperpigmentation in my face. This great stuff by Mac Cosmetics made sure my skin was protected well and that I get evenly tanned in my face. Mac Lightful C Tinted Cream is a tinted moisturizer with SPF 30, it also contains vitamin C that prevents hyperpigmentation. Eventually, even the color was too light for my tanned skin, I got it in the color medium. In total there are 9 colors available.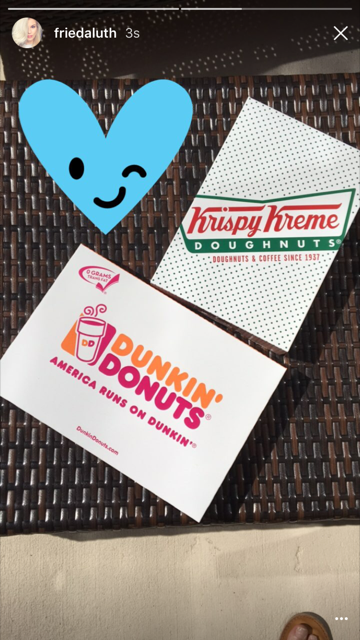 Dunkin Donuts vs. Krispy Kreme. A tough job to test which is better;). Check the chosen donuts on my Instagram feed. Dunkin Donuts has for us Europeans a greater name recognition, but many Americans find the Krispy Kreme donuts tastier. I love the original glazed donut (for me no Boston cream or custard filled donuts) and the glazed donut by Krispy Kreme is really very tasty!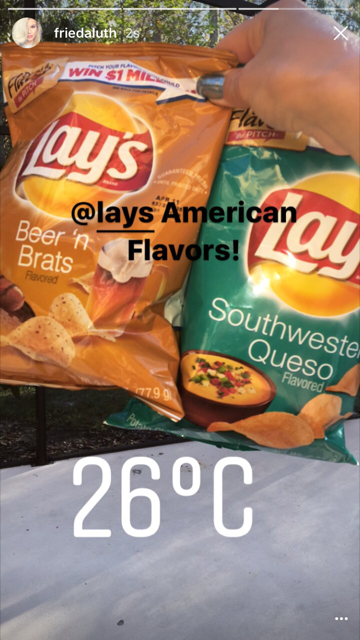 Nothing more fun than to try flavors that we don't have in The Netherlands. Beer and Brats was favored.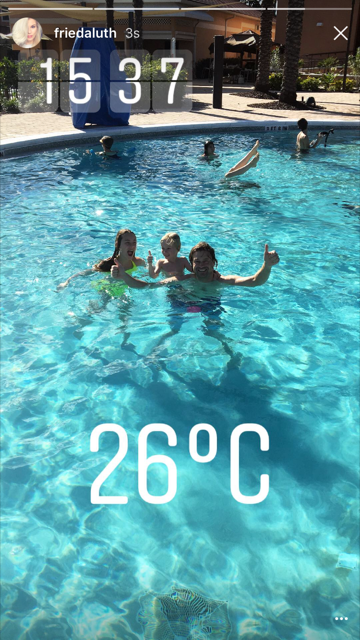 We stayed at the Regal Oaks Resort in Kissimmee (half hour drive from Orlando). Highly recommended for families, beautiful houses with gardens and a jacuzzi and the resort itself has a large swimming pool with slides and also a jacuzzi.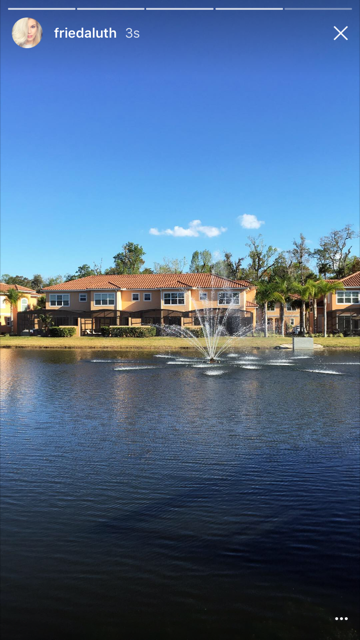 Regal Oaks Resort.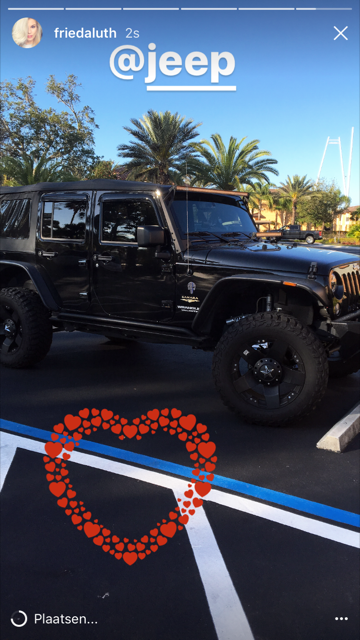 The first years we went to America I (as car freak) took al lot of pictures of all those beautiful cars. This year I managed to control myself and I've only put a few cars on the picture. Including this beautiful Jeep Wrangler Unlimited Sahara. I thought it was a Jeep Rubicon (my favorite Jeep) but this one is also very beautiful.
Monday, February 20.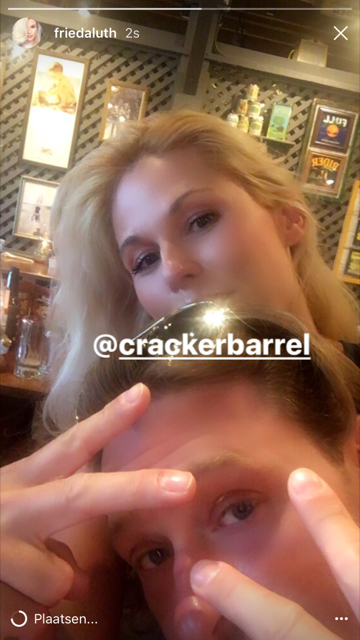 Cracker Barrel is a typical American restaurant with the theme Country and an old-fashioned decor. On the menu are all dishes from the south. Cracker Barrel is known for its collaboration with Country artists, but also for their charity (eg assistance to victims of Hurricane Katrina). All Cracker Barrel restaurants have a shop where you can buy very nice typical American gifts.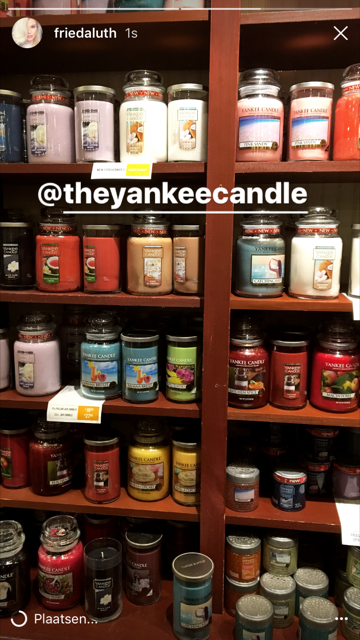 Like the Yankee Candle. Lovely scented candles and my favorite. Pity that they are too heavy to take wih me in my suitcase.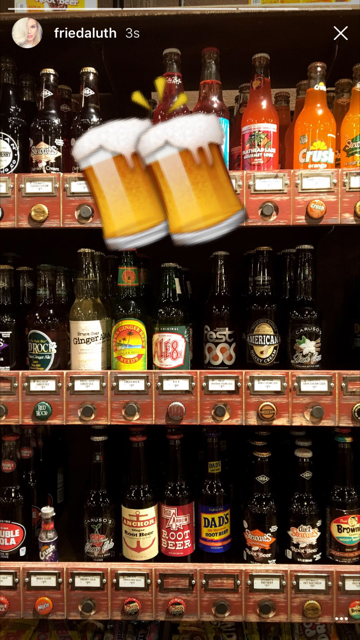 Several beers. I love it.
Tuesday, February 21.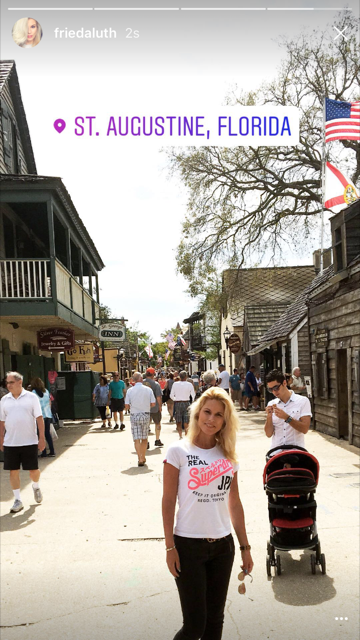 St. Augustine is so cute! It's the oldest town in America and we had never been there. A lot of tourists but very cozy with lots of of shops, coffee bars, restaurants, ice cream shops and cafes. Happy to see more terraces in America so you can drink and eat outside! In addition to the cozy streets you will also find a piece of history, an old fort with cannons and the oldest wooden school building in America. From Kissimmee it's around a 2½ hour drive.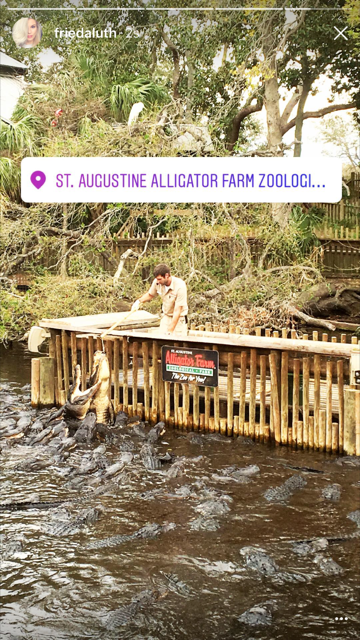 Our youngest is crazy about crocodiles, wolves and cheetahs. Normally we always went to Gatorland in Florida but it turned out that St. Augustine had also an Alligator Farm.
Wednesday, February 22.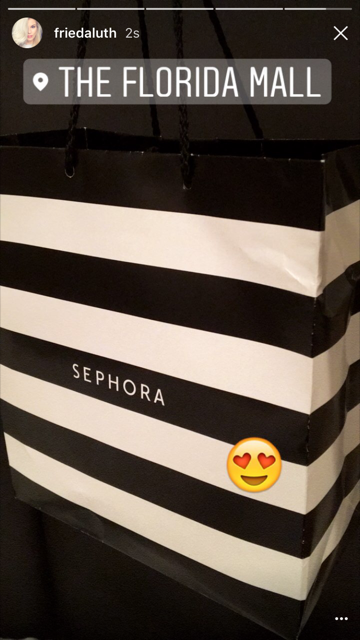 What do you do on a rainy day? Shopping! Of course I had to go to Sephora to honor my VIB Rouge status. On my Instagram feed I showed what I had bought.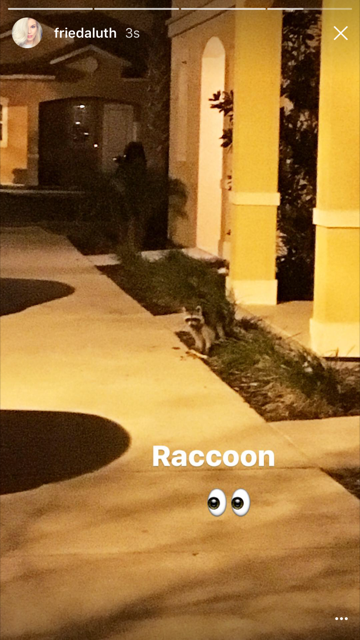 Dining is something you do almost every night in America and every restaurant in Kissimmee (and there are many) is filled daily. Some evenings when we came back to our house, raccoons have targeted our garbage.
Thursday, February 23.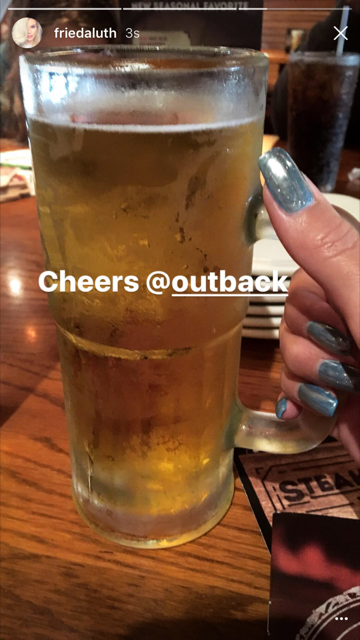 Also a very nice restaurant is Outback Steakhouse. It's an American restaurant with Australia as its theme. American beer has not a very good name in Europe but I like it better than for example Heineken. Budweiser is my favorite.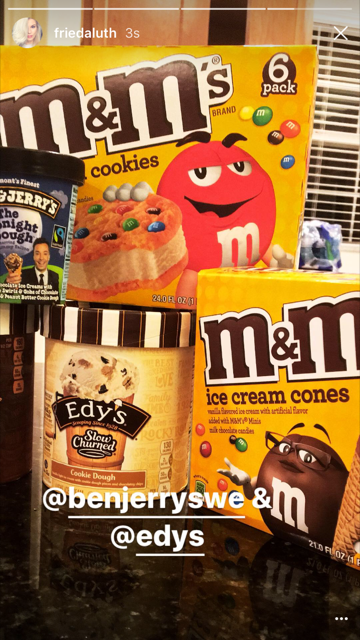 At Outback we had no room for dessert, so we went to the supermarket for some ice cream to eat at the house.
Friday, February 24.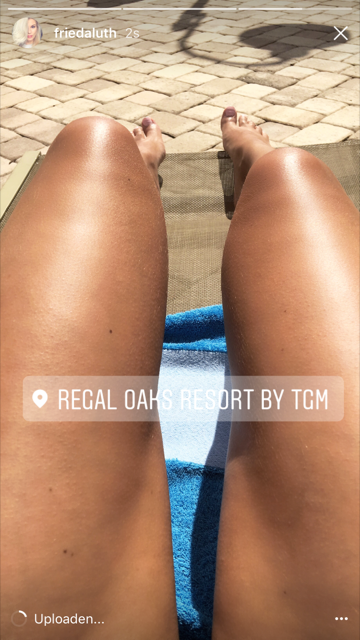 Day at the pool.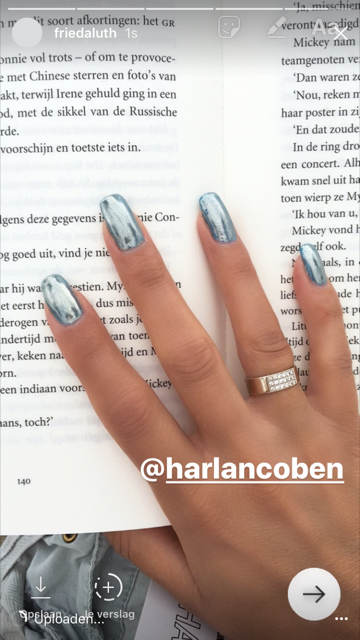 With the latest book by Harlan Coben, 'Home'. Recommended.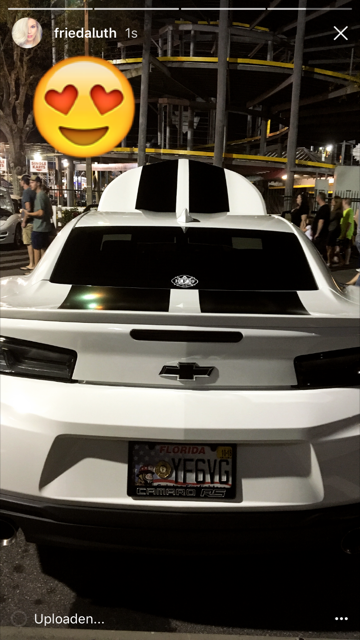 Yet another car on my Instagram Stories, a Chevrolet Camaro. We were not far from Old Town, an area with a unique collection of shops, bars and attractions. In the evening there are car shows, on Friday the American Muscle cars and on Saturday the classics.
Saturday, February 25.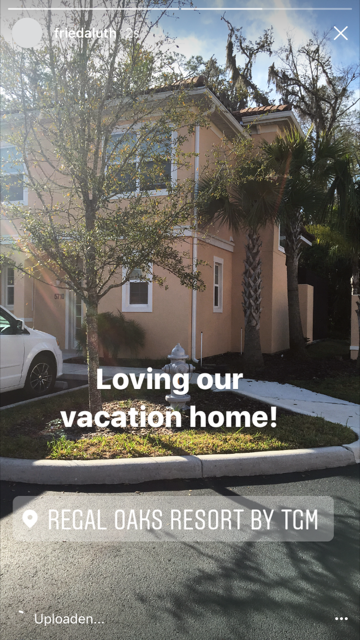 This was our lovely home. A large living room, large kitchen, terrace with table and chairs, loungers, jacuzzi, 3 large bedrooms and 2 large bathrooms. Yes, I say large to everything, because it was ;).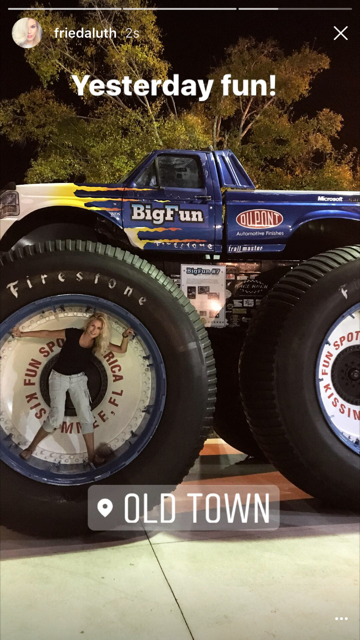 Another picture from the night before in Old Town.
Sunday, February 26.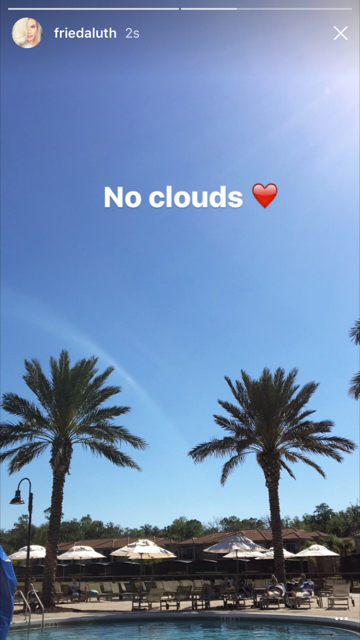 A lovely warm day at the pool with not a single cloud in the sky. Love!
Monday, February 27.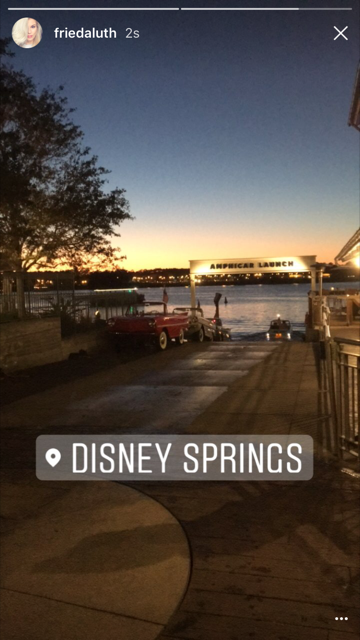 The days fly by. This evening we went to Disney Springs, a night spot with a large dine-in movie theater, food trucks, cool bands performing on the street and many restaurants (like T-Rex and Rainforest Cafe) and shops.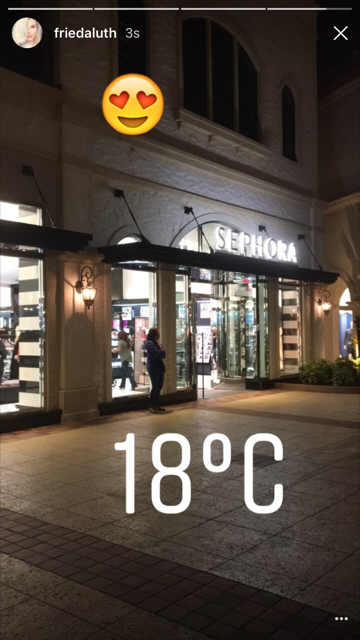 The shopping streets at Disney Springs have become even more extensive than last year. Walked by this Sephora very quickly, because I had already bought enough at Sephora in the Florida Mall!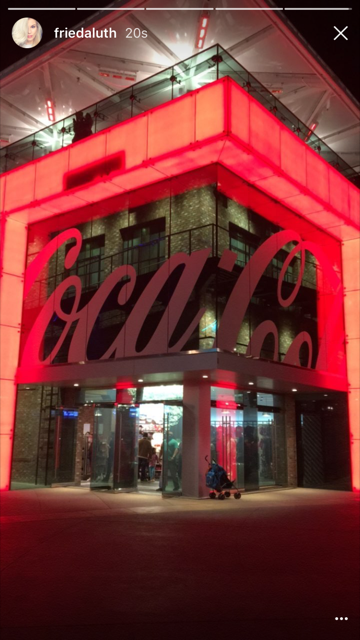 A shop where you can get everything from Coca Cola.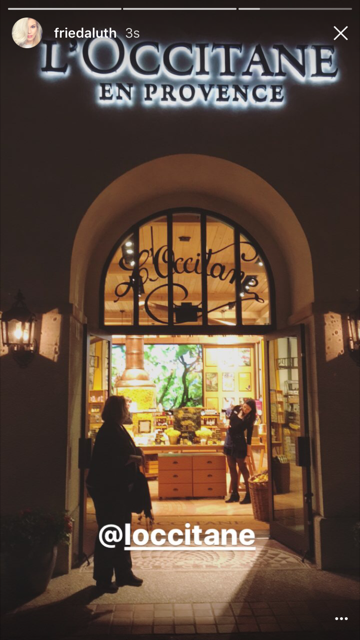 Oh yes, at L'Occitane I had purchased their latest cleanser, soon a review.
Tuesday, February 28.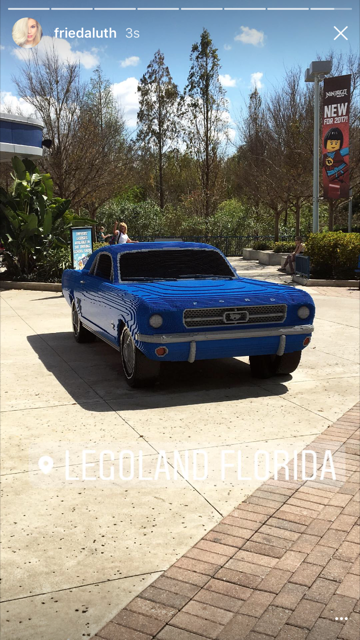 After some years we've seen the Disney parks a lot so it was time for something new. The kids wanted to go to Legoland, we had never been before. The theme park is the fifth and largest Legoland Park in the world. Very nice.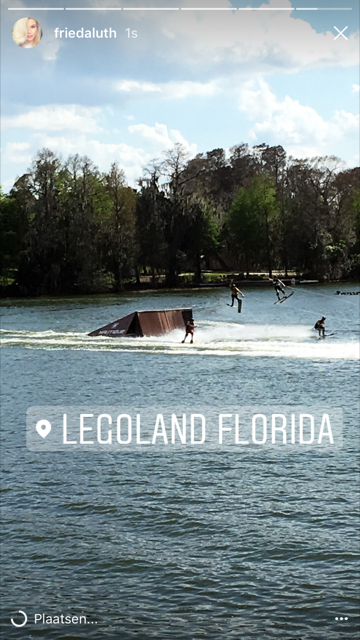 At the park was also a 20-minute pirate waterski show. Nice to see and we were seated in the sun on the lake.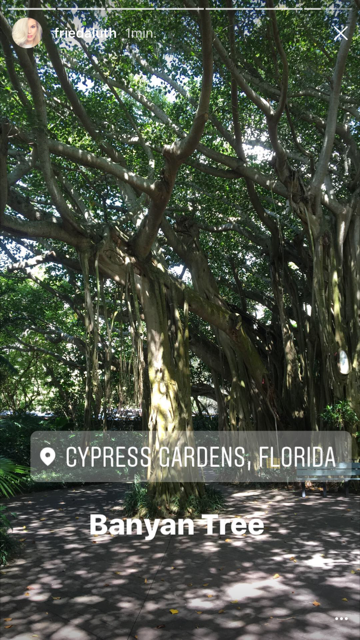 Adjacent to Legoland is Cypress Gardens, a botanical garden where many movies have been made, surrounded by a large lake. You can take a nice walk, although the crocodile can swim close. The huge Banyan Tree is still there and has been planted back in 1939.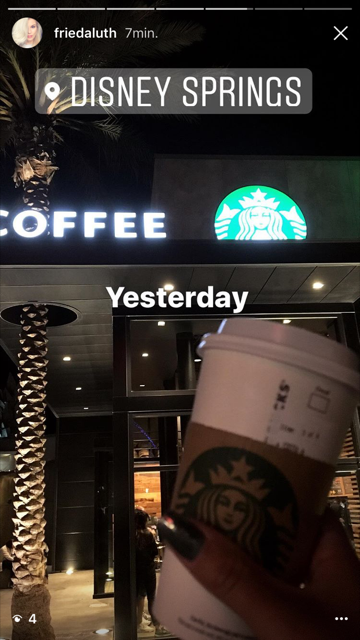 The night before, when we were in Disney Springs, I forgot to post this picture of Starbucks.
Wednesday, March 1.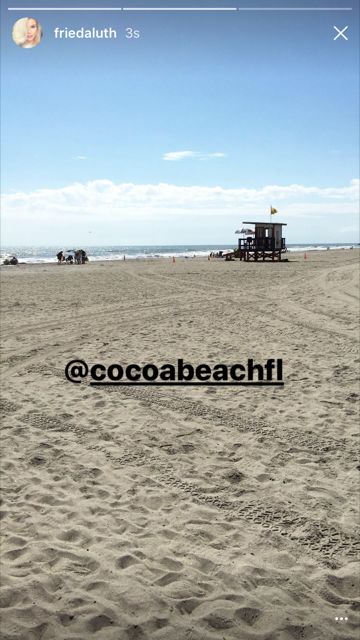 A day at the beach. When we go to the Atlantic Ocean, Cocoa Beach is favorite. When we go to the Gulf of Mexico, Clearwater is favorite. Last year our oldest was afraid to go in the sea because of a movie she had seen on Youtube about sharks that were very close to the coast of Cocoa Beach. This year we had a great swim in the sea.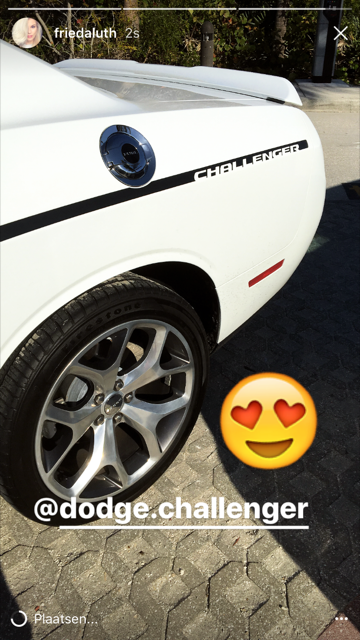 At the parking at the beach was a beautiful Dodge Challenger (sorry, the last one).
Thursday, March 2.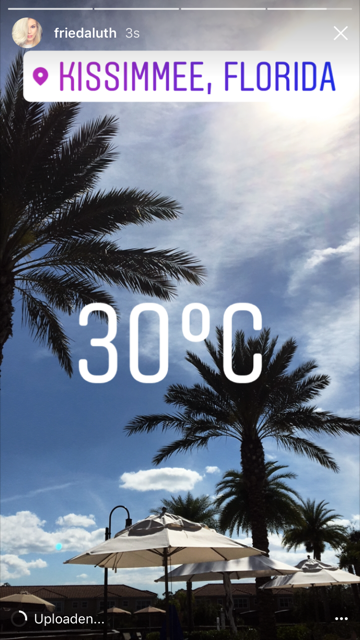 A hot day at the pool. The end of the holiday is around the corner :(.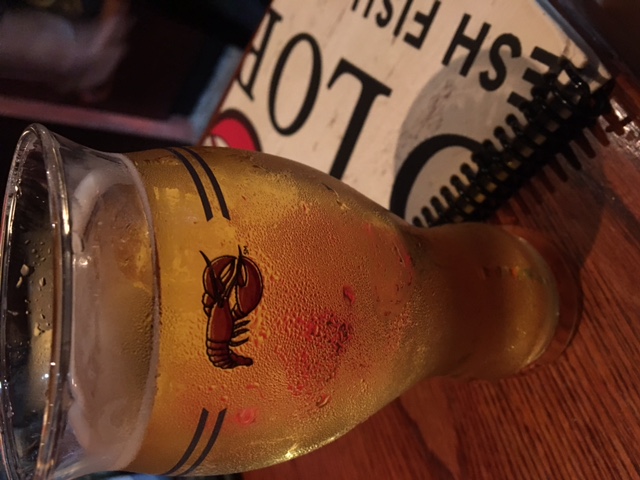 A favorite restaurant of mine in America is seafood restaurant Red Lobster. Delicious lobster and crab legs (and a beer).
Friday, March 3.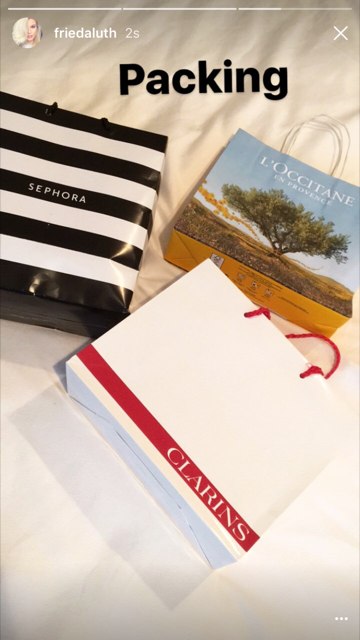 The last day, way too soon. I love to pack but not for the return trip.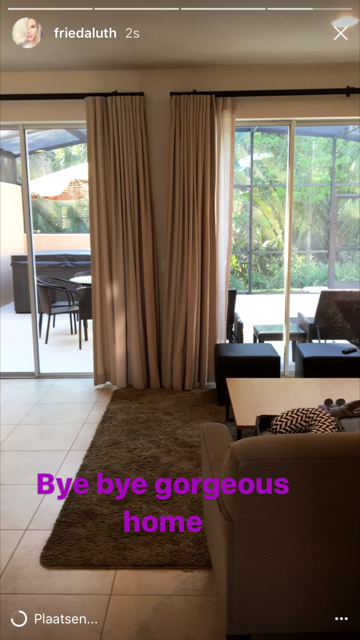 A dramatic farewell.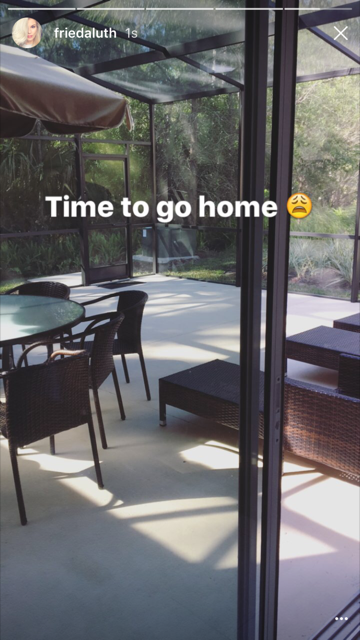 The nice terrace at home.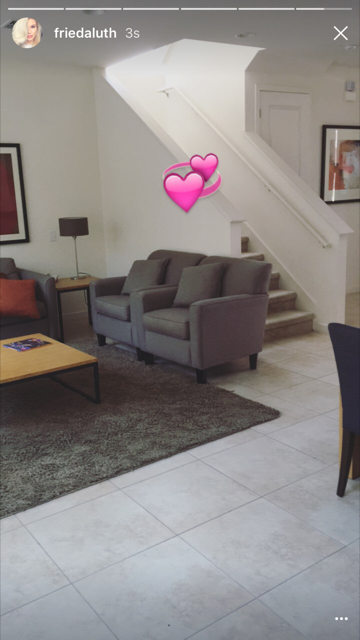 The living room.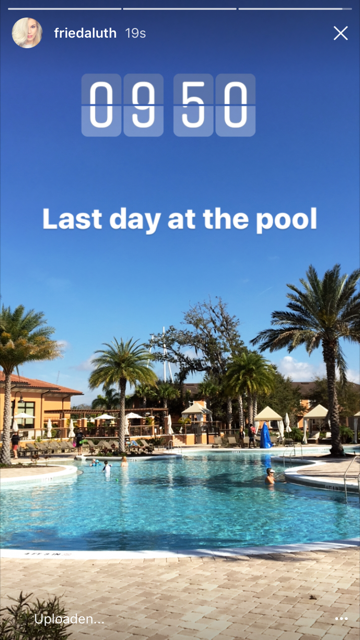 We had checked out 10am, then stayed until 12am at the pool.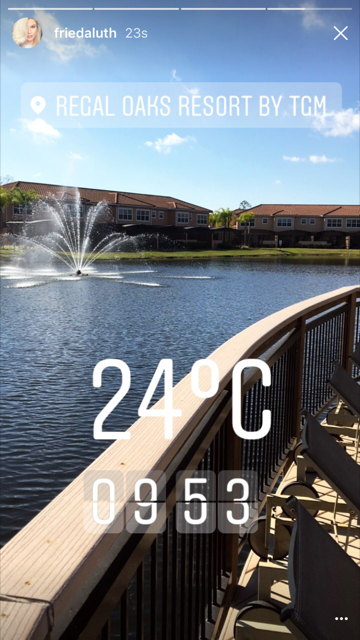 One last photo of the resort. Every year we go to another place, but the Regal Oaks Resort is definitely the place we want to stay again next time.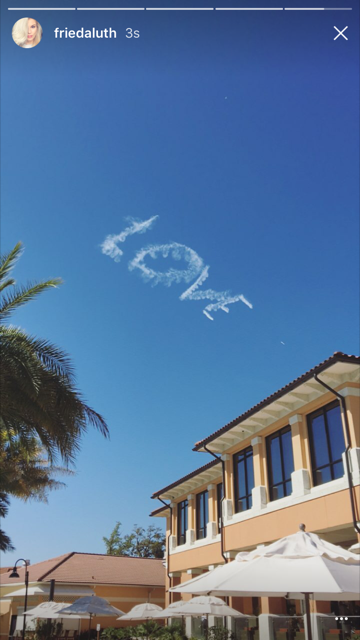 Okay, another one then!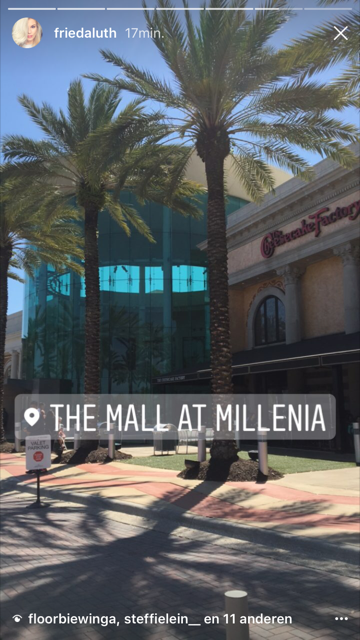 On the way to the airport we stopped at The Mall At Millenia. A big mall with 150 shops, a food court and several upscale dining. You can find the best shops here, think of Macy's, Bloomingdale's, MAC Cosmetics, Sephora, Victoria's Secret, Chanel, Louis Vuitton, Gucci, Prada, Bulgari and Cartier.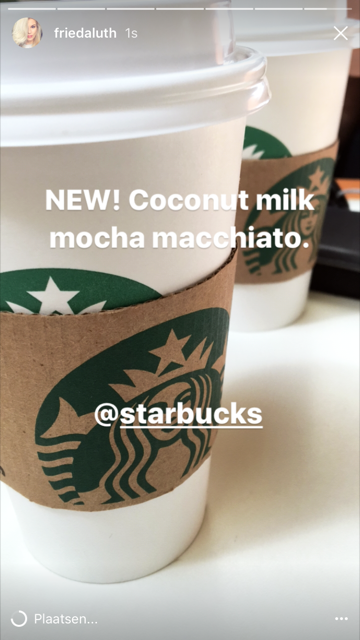 Latest Starbucks coffee, I wanted to try the latest coffee, coconut milk mocha macchiato. Shots of espresso with steamed coconut milk, with a hint of white chocolate mocha sauce and as a topping caramel sauce. Also available as Iced variant. Tasty but in the future I'll still prefer my trusty cappuccino or caramel macchiato.
That was our vacation on Instagram Stories. What's your favorite holiday destination? Let me know XO Frieda.
0