Het budget merk e.l.f. Cosmetics is een grote hit in Amerika. Alle e.l.f. producten zijn hypoallergeen en niet-comedogeen en ze testen niet op dieren. Ze hebben hele betaalbare producten van grote kwaliteit en het is daar gewoon in de supermarkt of bij de drogist te koop. Bij de Walmart kocht ik 2 verschillende primers van dit merk en één daarvan gebruik ik deze zomer bijna dagelijks.
Primers.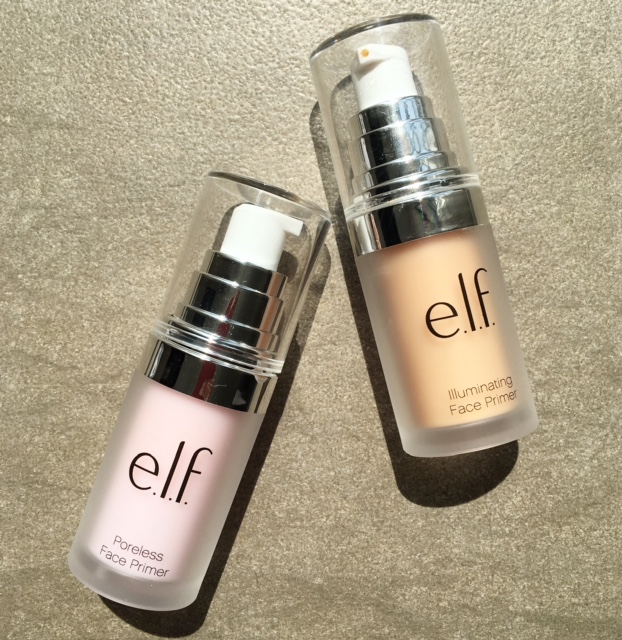 De primers van e.l.f. Cosmetics (e.l.f. staat voor Eyes, Lips, Face) zitten in handige pompflacons met een inhoud van 14ml. Ze zorgen er voor dat je makeup gelijkmatig wordt aangebracht en ze vullen fijne lijntjes en poriën op.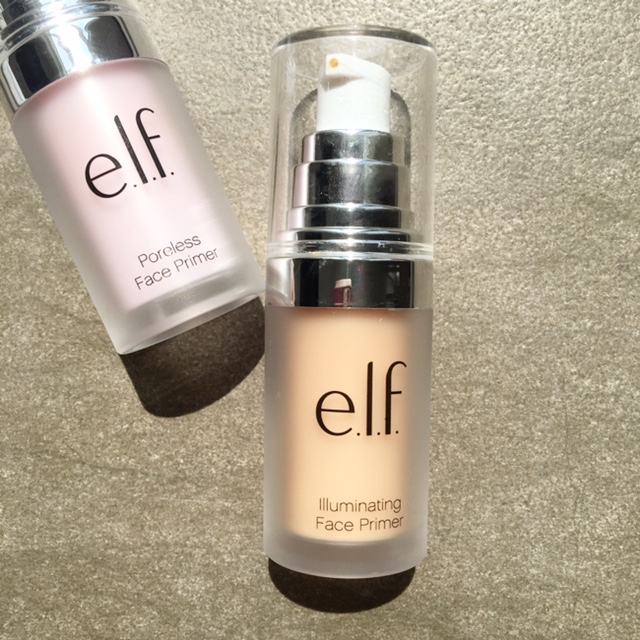 Ik begin meteen met mijn favoriet van de twee, de Illuminating Face Primer. Deze geeft een mooie gloed en laat je huid stralen, geschikt voor ieder huidtype.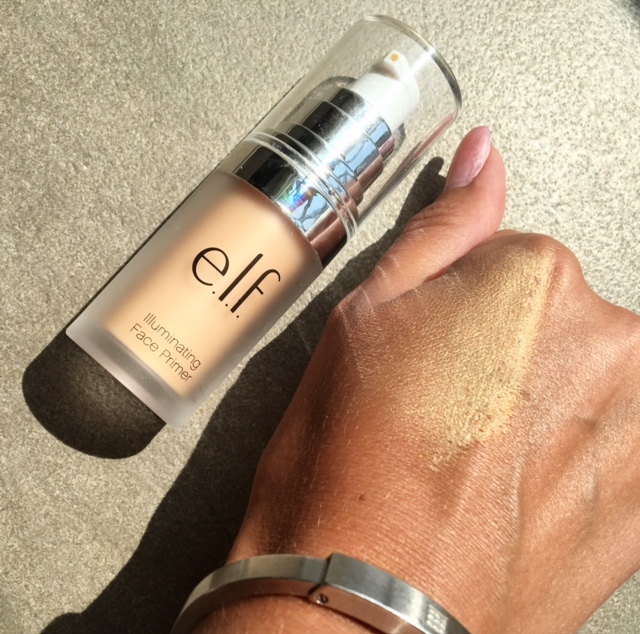 Op het eerste gezicht denk je bij de aanblik van al dat glitter dat je hoofd er uit gaat zien als een discobal, maar geloof me, onder je foundation geeft dit echt een heel mooi resultaat. Ook heb ik het op de foto niet uitgesmeerd.
Deze primer is ideaal wanneer je een ongelijkmatige huidtint hebt of zoals ik pigmentvlekken door de zon. Het zorgt namelijk voor net wat meer dekking in combinatie met je foundation. 
De Poreless Face Primer is erg fijn wanneer je een gecombineerde huid hebt dat snel gaat glimmen.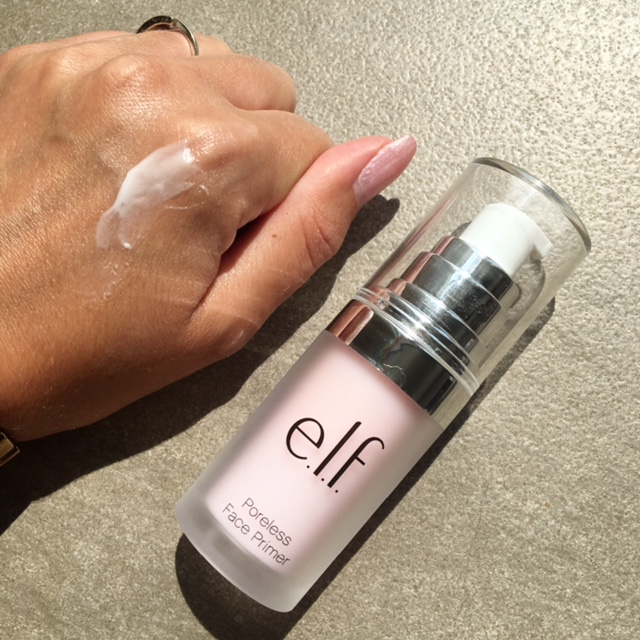 Deze primer is kleurloos en heeft dezelfde structuur zoals je gewend bent van de meeste primers.
Naast dat deze primer je huid glad maakt voordat je makeup aanbrengt heeft deze ook extra verzorgende ingrediënten voor je huid zoals Tea Tree en Vitamine A en E. De Tea Tree ruik je bij het aanbrengen overigens wel erg goed maar de geur vervaagt gelukkig zodra het in je huid is getrokken.
Conclusie.
Ik had juist gedacht dat ik de Poreless Face Primer het fijnst zou vinden van de twee maar dat is dus niet het geval. Hij werkt verder prima maar niet speciaal, ik gebruik dan liever bijvoorbeeld de Benefit POREfessional Primer. De Illuminating Face Primer vind ik echt ontzettend fijn, deze geeft een hele mooie gloed, ik glim de hele dag door niet zonder dat ik bij poeder en het geeft extra dekking. 
Deze e.l.f. primers zijn te koop bij eyeslipsface.nl voor € 8,00.
Was jij al bekend met de fijne cosmeticalijn van e.l.f.? Let me know XO.
0