Stel je voor: een wereld waarin je niet langer afhankelijk bent van dure salon afspraken om je nagels een glansrijke transformatie te geven. Met de professionele Dipping Powder Glamnailsprofessional inclusief 4 prachtige kleuren, wordt deze droom werkelijkheid. Deze set opent de deur naar eindeloze mogelijkheden voor het creëren van adembenemende nagel ontwerpen, gewoon vanuit het comfort van je eigen huis.
Dipping Powder Set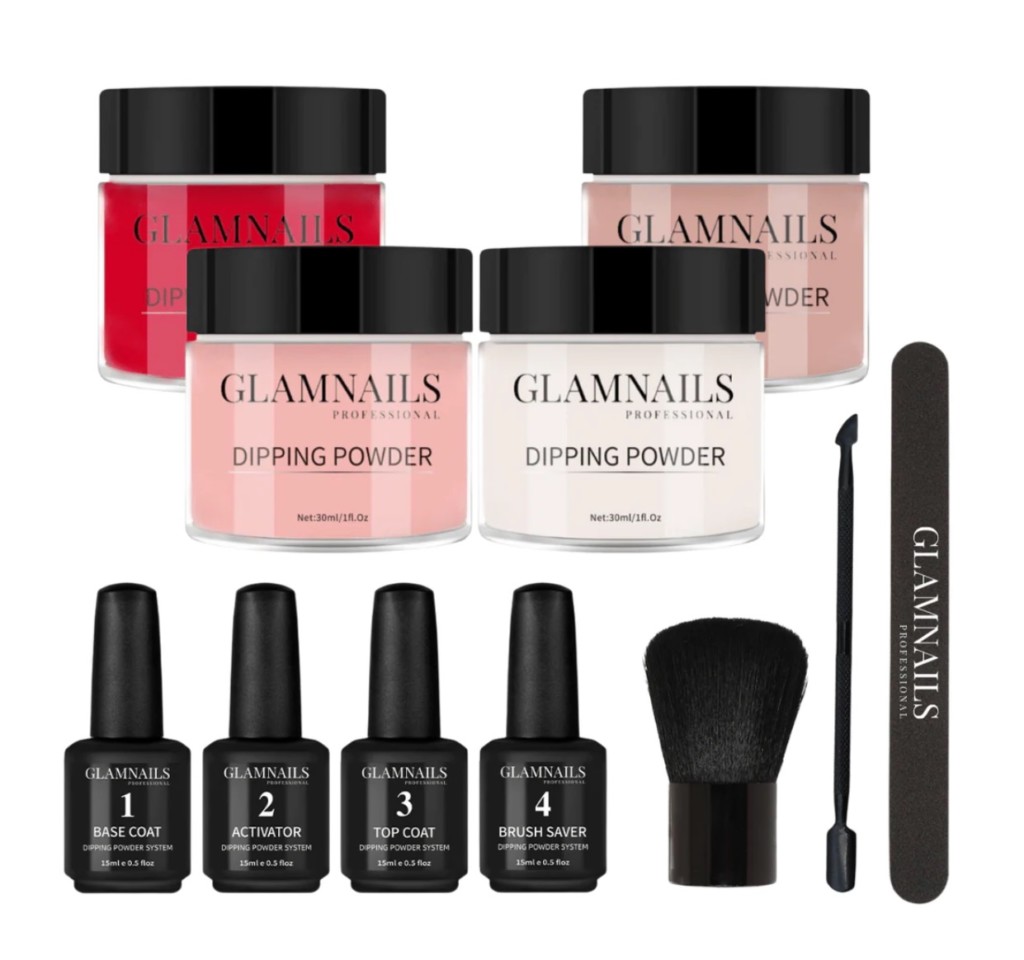 Met de Glamnailsprofessional Dipping Powder Set hoef je geen nagel professional te zijn om verbluffende resultaten te behalen. Het eenvoudige en gebruiksvriendelijke proces maakt van nagelstyling een plezierige ervaring. Begin met het aanbrengen van de base coat, dompel je nagels voorzichtig in de kleurrijke poeders en sluit af met een beschermende top coat. Het resultaat? Een duurzame, glanzende en professioneel ogende manicure die wekenlang meegaat.

De set wordt geleverd met vier mooie kleuren die je persoonlijkheid en stijl weerspiegelen. Of je nu gaat voor een klassiek rood of een zachte pasteltint, de Glamnailsprofessional Dipping Powder Set heeft voor elk humeur en elke gelegenheid de juiste kleur. Daarnaast is de set ook verkrijgbaar in een goedkopere variant met twee kleuren Dipping Powder. 

De set biedt voldoende poeder voor meer dan 50 toepassingen, is cruelty-free en vegan en is lief voor je nagels zonder nasty ingrediënten.
Het zelf uitproberen van de Dipping Powder Set is niet alleen een manier om geld en tijd te besparen, maar het is ook een heerlijke vorm van zelfverwennerij. Tijd besteden aan het stylen van je nagels kan een kalmerende activiteit zijn, die je de kans geeft om even te ontsnappen aan de dagelijkse drukte.

In een wereld waarin zelfexpressie en persoonlijke verzorging steeds belangrijker worden, biedt de Glamnailsprofessional een toegankelijke en lonende manier om jezelf te uiten. Dus waar wacht je nog op? Duik in de wereld van schitterende nagelkunst en ontdek de verbazingwekkende resultaten die je kunt bereiken met deze prachtige set.
Ontdek de Magie van Glamoureuze Nagels: De Professionele Dipping Powder van Glamnailsprofessional voor thuis met 4 schitterende kleuren! Met de kortingscode FRIEDA10 krijg je 10% korting op je bestelling bij Glamnailsprofessional. 
XO Frieda
Deze blogpost bevat producten die ik heb ontvangen.
0