Ik ben gek op nude tinten voor je nagels en de nieuwe nagellak collectie The Nudes van budgetmerk Essence is te mooi om te laten liggen. Omdat ik een lichtelijke haat- liefdeverhouding met nagellak heb (lees; zware irritatie bij een chip op dag 1) kies ik vaak voor de wat lichtere kleurtjes op mijn nagels. De Essence I Love Trends The Nudes collectie heeft 12 verschillende nude tinten en ik heb 2 tinten en de enige topcoat uit de collectie getest.
Essence I Love Trends The Nudes.
Hoe schattig zien deze nagellakjes er uit, zo zoet! Op volgorde; 06 baby doll, 07 hope for love en 04 cupcake topping.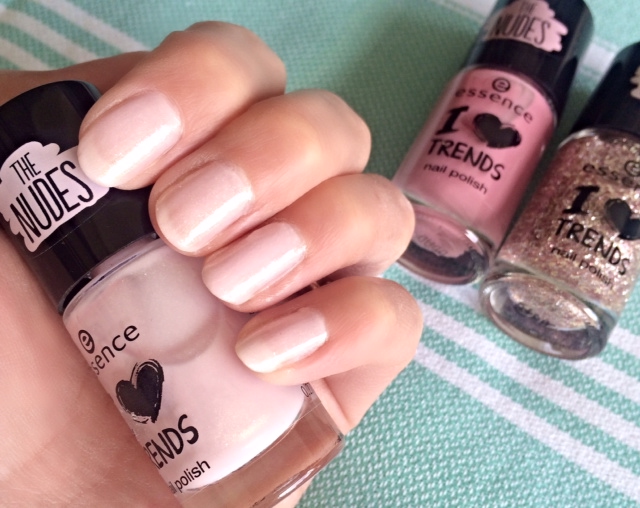 De tint 06 baby doll is een heel licht roze kleurtje met een klein beetje shimmer er door heen. Deze tint blijft ook na twee lagen een beetje transparant, wil je een dekkende laag op je nagels dan zal je 3 laagjes moeten aanbrengen, maar ik vind de baby doll transparant ook mooi en heb het bij 2 lagen gehouden.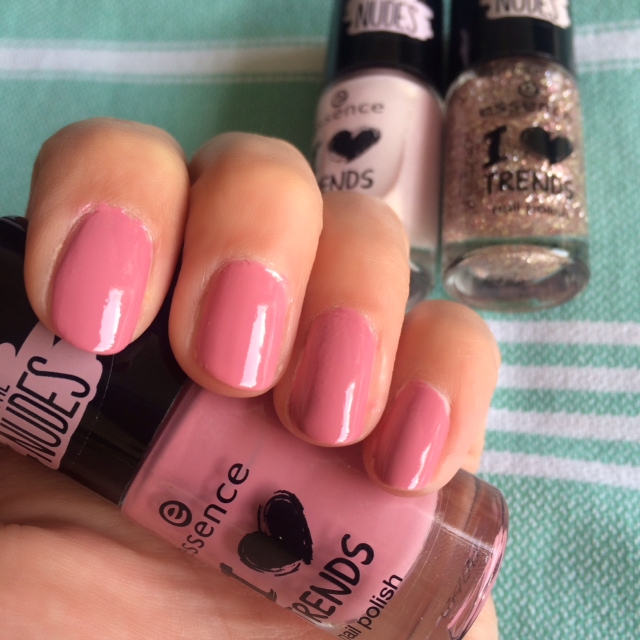 Dit is toch wel mijn favoriet uit de gehele The Nudes collectie, 07 hope for love, een mooi oud roze kleurtje die goed dekt in 2 lagen.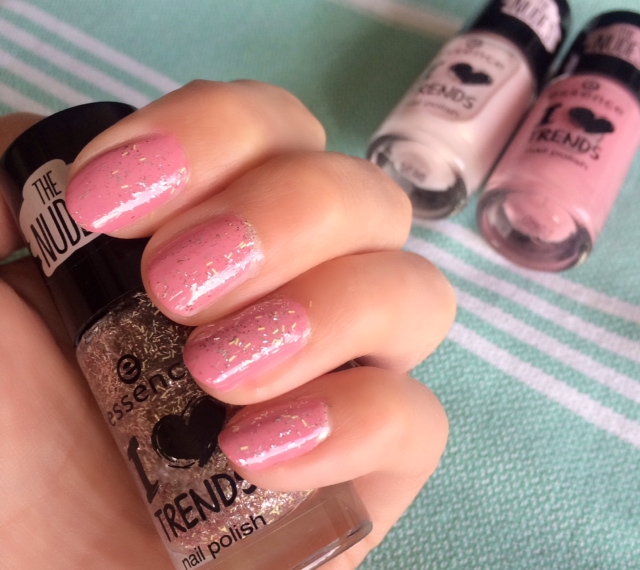 En dan de 04 cupcake topping, een hele leuke topcoat met staafjes glitters in verschillende kleurtjes die je over alle nude tinten heen kunt aanbrengen. Ook leuk om bijvoorbeeld alleen je ringvinger met een laagje glitter topcoat te lakken.
Conclusie.
Na drie dagen zit er nog steeds geen enkele chip op mijn nagels, dat vind ik persoonlijk echt geweldig, de prijs- kwaliteitverhouding is top want deze nagellakjes kosten namelijk maar € 1,89 per stuk! De The Nudes nagellakjes lakken heel fijn, drogen vrij snel en doen in mijn ogen niet onder voor een Essie nagellak.
De Essence I Love Trends The Nudes nagellakjes zijn te koop bij Kruidvat voor € 1,89 (8ml).
Wat vind jij van deze nude tinten van Essence? Let me know XO. 
2