Ten eerste een Happy 2016 voor iedereen! Dat het een mooi jaar voor je mag worden vol met warmte, liefde, geluk en gezondheid.
Ik houd van zware luchtjes en gebruik deze niet alleen voor speciale gelegenheden maar gewoon voor iedere dag. Ik ga niet zonder mascara de deur uit maar ook niet zonder parfum! De nieuwe geur Black Opium van Yves Saint Laurent is de opvolger van zijn bestselling parfum Opium en is zo'n heerlijke zware geur die je de hele dag blijft ruiken, een echte Rock Chic geur met de verslavende geur van koffie en een vleugje vanille. 
Yves Saint Laurent Black Opium.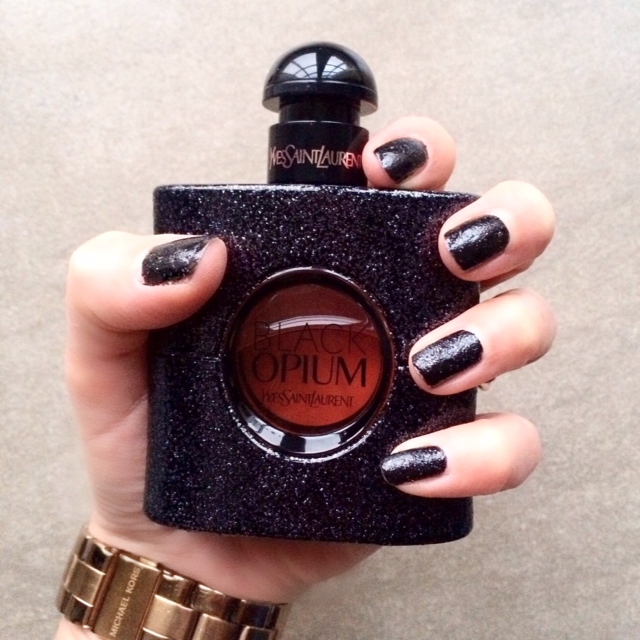 Kunnen we even een momentje nemen en kijken hoe mooi dit parfumflesje is! Zwart met glitters, heel chic. In het midden zie je achter het YSL logo de amberkleurige parfum. Het flesje heeft een inhoud van 50ml. 
De geurnoten van Black Opium zijn; koffie, sinaasappel bloesem, cederhout en de zoet kruidige geurnoot patchouli. Nu moet je niet denken dat je de hele dag ruikt naar espresso en cappuccino, de combinatie van de geurnoten is echt heerlijk en maakt het tot een zwoele, sensuele en warme geur.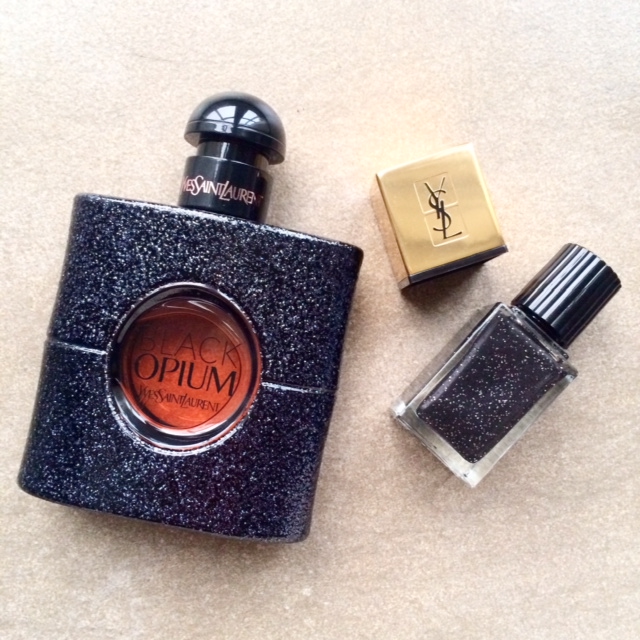 Afgelopen maand had IciParisXL een leuke kerst actie met YSL, Black Opium kon je bestellen in een soort kerst koffer en daar zat een mooie nagellak bij van YSL, de La Laque Couture 59 Nuit Noire. Een diepzwarte nagellak met glitters net zoals het parfumflesje. Volgens mij is deze actie inmiddels uitverkocht maar ik wilde je de mooie nagellak niet onthouden. De nagellak blijft de eerste laag nog vrij transparant maar dekt volledig in twee lagen. 
Conclusie.
Deze sensuele en zware parfum is echt het soort parfum waar ik zo van hou. Goed aanwezig maar niet te overheersend, het is warm, mysterieus en zoet. Als je van sensuele luchtjes houdt die de hele dag goed aanwezig zijn dan is dit parfum echt voor jou.  
Yves Saint Laurent Black Opium is te koop bij IciParisXL.nl voor € 61,66 (30ml) of € 85,05 (50ml).
Of bij de fijne webshop Feelunique.com, goedkoper en gratis verzenden vanaf € 15,00. Prijzen YSL Black Opium zijn daar € 54,68 (30ml) of € 77,76 (50ml). Korting 10%. 
De nagellak is op het moment moeilijk te verkrijgen, maar samen met de parfum nog wel te koop bij Parfumwebshop.nl 
1