Ik laat je weer zien wat ik de afgelopen maand allemaal heb opgemaakt aan beauty producten. Dit keer heb ik het niet onderverdeeld in categorieën maar heb ik de artikelen genummerd van 1 t/m 10.
 Opgemaakt juni 2016.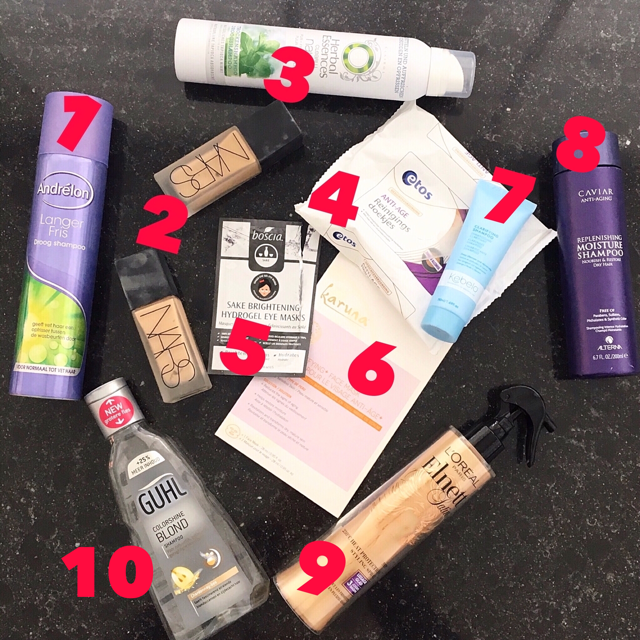 Droogshampoo kan natuurlijk niet in mijn lijstje ontbreken. Andrélon Droogshampoo Langer Fris geeft lekker veel volume en ruikt heerlijk fris.
NARS All Day Luminous Weightless Foundation heb ik in 2 verschillende tinten gebruikt om te mixen zodat ik de juiste kleur kreeg. Light 6 en Medium 3. 
Weer een droogshampoo, dit keer de Herbal Essence Clearly Naked. Best oké maar niet zo fijn als die van Andrélon en zal ik daarom niet nog een keer kopen. 
Etos Anti-Aging Reinigingsdoekjes. Ideaal voor je laatste resten makeup met soja-olie en ceramidecomplex. 
Boscia heeft geweldige sheet masks en deze zijn speciaal voor onder je ogen. In de verpakking zitten 3 setjes. Boscia Sake Brightening Hydrogel Eye Masks.
Nog zo'n fijn merk wat betreft maskers is Karuna. Dit is het anti-aging masker dat je huid revitaliseert en hydrateert. Karuna Age-Defying Face Mask.
Kebelo Clarifying shampoo reinigt je haar diep en ontgift je haar van product opbouw en vervuiling. Gebruik 1x per maand.
Alterna Moisture Shampoo is een anti-aging shampoo die hydratatie geeft aan vochtarm haar.
Gladmakende Heat Protection Styling Spray van L'Oreal beschermt je haar tegen de hitte van de föhn of stijltang en maakt je haar glad.
Guhl Colorshine Blond Shampoo is zacht voor je haar en je haarkleur en deze variant is speciaal voor natuurlijk of gekleurd blond haar. 
Het fijnste product uit deze lijst voor mijn gezicht vond ik de Boscia Sake Brightening oogmaskers, je ogen zien er echt uitgerust uit en rimpeltjes zijn voor even stukken minder zichtbaar. Voor wat betreft mijn haren vond ik de Kebelo Clarifying echt heel veel goed doen voor mijn haren. Het minst enthousiast was ik over de Herbal Essence Clearly Naked droogshampoo, deze deed het voor mij gewoon net niet en terwijl de bus nog niet eens half leeg was ging de spray ook nog eens kapot, fail!
Wat vind jij van bovenstaande lijst? Let me know XO.
4