Don't get me wrong, I certainly don't eat healthy every day of the week and I love wine. But since my operations and remnants of silicone that still haunt my body, I am much more aware of my body and health. One of the biggest health trends of the moment is Chlorophyll Water, a drink with chlorella powder that boosts your health and the condition of your skin. But what exactly is chlorella and what nutrients does it contain? Chlorella is also referred to as a superfood due to its impressive nutritional profile. Since it is in powder form, it is very easy to use. Every day I drink it with water and lemon, sometimes I stir it into my yogurt in the morning. It is also an idea to add chlorella to your smoothie / fruit juice or to a dish such as soup. Biotona Chlorella Health and Beauty in your glass.
Biotona Chlorella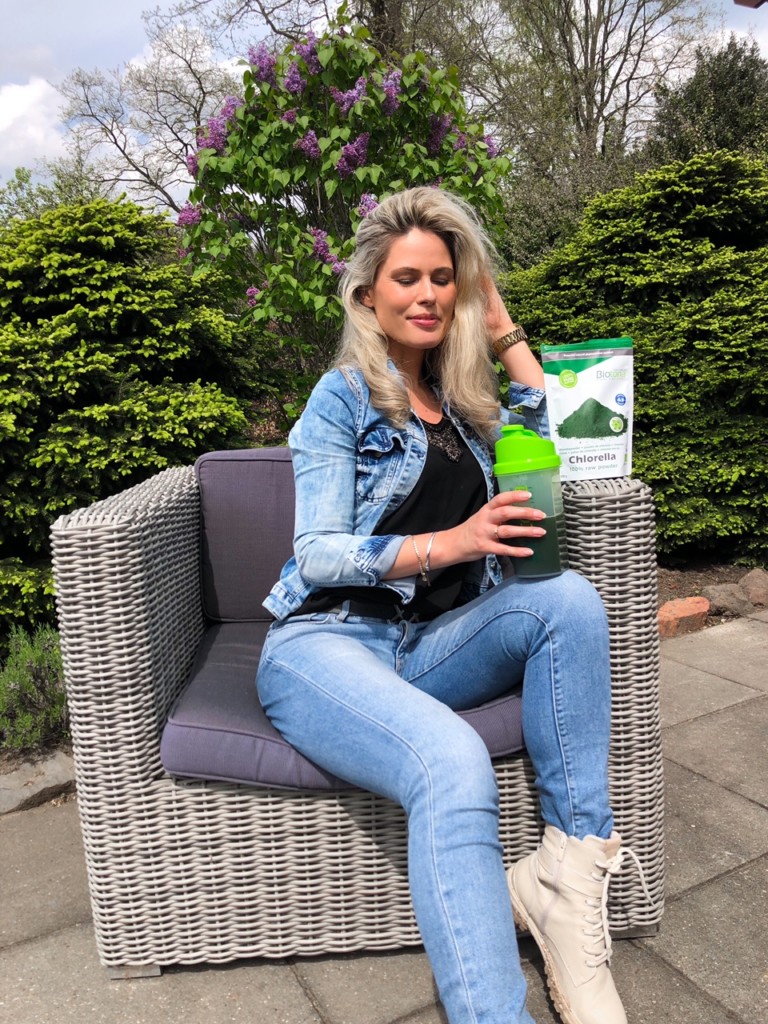 Chlorella is a bright green freshwater algae and a rich source of nutritious vegetable proteins and essential fatty acids. It contains large amounts of chlorophyll (leaf green) that is able to bind waste products. Leaf green also contains vitamin B12 and folic acid, beta-carotene and minerals such as iron and magnesium. Chlorella supports the cleansing function of the liver. With a glass of Chlorophyll Water daily you will feel fresh and energetic. Another important advantage: your skin will improve enormously.
You get all the nutrients and cleansing properties of the chlorella microalgae daily with this drink. While you enjoy your day, your body is working on your health, resistance and internal cleansing. You don't just feel that, you can also see it on your outside!
Skin problems
As a result of processed food, pesticides, exhaust fumes, chemical substances, environmental pollution and such, the removal of these harmful substances does not always go smoothly. The liver in particular has a lot to endure. Accumulated waste products stored in our body tissues can lead to inflammation. This is reflected, for example, in the form of skin problems such as sensitivity, rosacea, acne and eczema. Chlorella supports the cleansing function of the liver, so that this process is slowed down.
This is how you make Chlorophyll Water:
You can make this super functional drink as follows: put one level tablespoon of Biotona Chlorella powder and 1 to 2 teaspoons of lemon juice in a (shake) cup with a screw cap. Add 300 ml of cold water and a few drops (2-3) of invigorating lemon essential oil (Physalis). Tighten the cap tightly, shake vigorously and drink immediately. So you are ready for a new day!
Tip: Don't forget to drink enough water for the rest of the day; this is how you help your body to dispose of waste.
Organic and pure
The chlorella algae that Biotona uses are 100% organically grown under strictly controlled conditions, without harmful additives such as dyes and pesticides. After harvesting, the algae are dehydrated by means of an ingenious drying process, so that their nutritional value is preserved. They are then ground into a fine powder, which is stored oxygen-free and shielded from light. This is the purest form of chlorella you can find.
Clean Label and CO2Neutral®
Biotona and Physalis products have a Clean Label. This means that they do not contain any artificial colours, preservatives, flavourings, sweeteners, lactose, sugar, salt, yeast or gluten. They are minimally processed and come with an ingredient list with an unambiguous and complete listing of each ingredient. In addition, KeyPharm has the international CO2Neutral® label that guarantees that KeyPharm calculates, reduces and compensates for its local and global climate impact.
PRICE, AVAILABILITY AND USE
Biotona bio Chlorella Powder Raw € 16.99 (200 grams). Biotona is available from, among others, Holland & Barrett, hollandandbarrett.nl.
XO Frieda
This blog post contains products that I received.
0