Do you also don't take enough time to go to the beauty salon? I go faithfully to my hairdresser and nail stylist, but not enough to the beauty salon. I currently undergoing an IPL treatment (permanent laser hair removal) and therefore I don't plan a facial treatment anymore.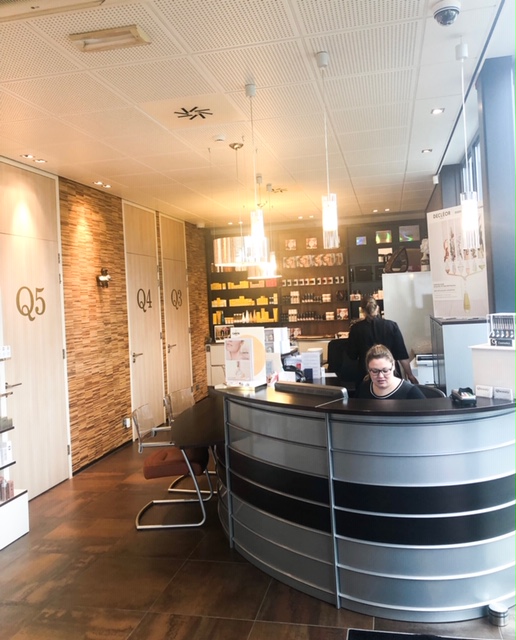 But I think it's so wonderful, pure indulgence. That's why I was very enthusiastic when I came in contact with Qbeauty from Almere (place in Holland). If I wanted to undergo a facial treatment in order to meet their skin care products. Of course! After this pleasant and fun visit, I decided to do this more often. It makes your skin feel better and it's just wonderfully relaxing.
QBeauty Beauty Treatment
Qbeauty is a professional beauty salon and Day Spa located in a very beautiful building in Almere. The 'Q' of Qbeauty therefore stands for 'Quality'. At Qbeauty you can choose from an extensive range, with both traditional and surprising modern and new treatments. You can go to the certified beauticians for face and body treatments or a wellness package.
After completing a questionnaire so that the beautician knows what to expect from my skin, I was taken to a treatment room. Nice to know is that they also have a duo treatment room at QBeauty, where you can go for a treatment together with your girlfriend.
The professional brands that QBeauty uses in the salon are Carita Paris, GJ Cosmetics and Decléor.
The treatment I received was an anti-aging treatment from the Carita Paris brand. After a skin analysis I was told that I have a dehydrated skin, this is confirmed every time by beauticians. I always had the idea that I've a combination skin, because of this I sometimes used the wrong products. My skin can shine quickly, but that's precisely in response to a lack of moisture instead of my skin being greasy.
The treatment consists of:
Cleansing the face
Renovator (corrective peeling)
Apply the mask, tailored to my skin
Apply nourishing face and eye cream
Duration 35 minutes
Carita Renovateur Visage
During the treatment I immediately became enthusiastic about the Carita Renovateur Visage that you apply on dry skin. The dry scrub gives a detox to your skin and visibly improves the skin structure. With the natural sunflower seeds and apricot kernels it gently exfoliates the skin. The essential oils of lemon and clove detoxify the skin. You continue to apply the product to the face with circular movements until the texture is just a dry grain. You can remove the remains with a soft cloth. It's a cleaning product that you use before your day and night care, once a week.
Ampoules GJ Cosmetics.
GJ Cosmetics has been specially developed for QBeauty, which fully meets all high requirements of QBeauty. These products contain the latest active ingredients in the field of nutrition and hydration of the skin. The long-term effect is clinically proven, and the beauticians at QBeauty and her clients benefit daily from the beneficial effect that's immediately noticeable.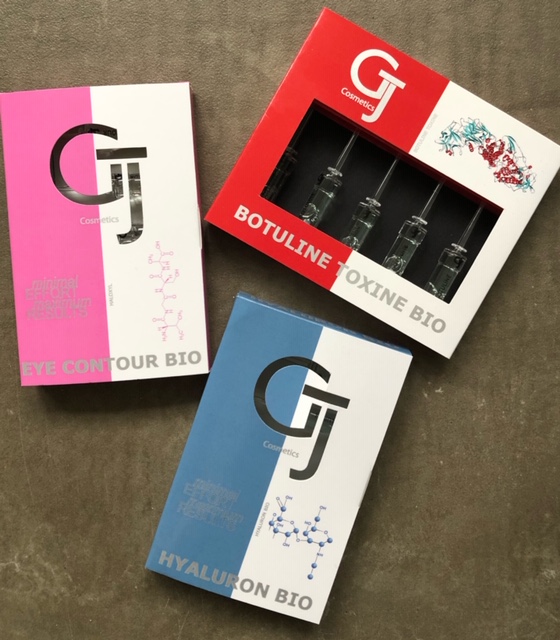 Immediately after the treatment I started using the Hyalurin Bio ampoules as a cure for my dehydrated skin.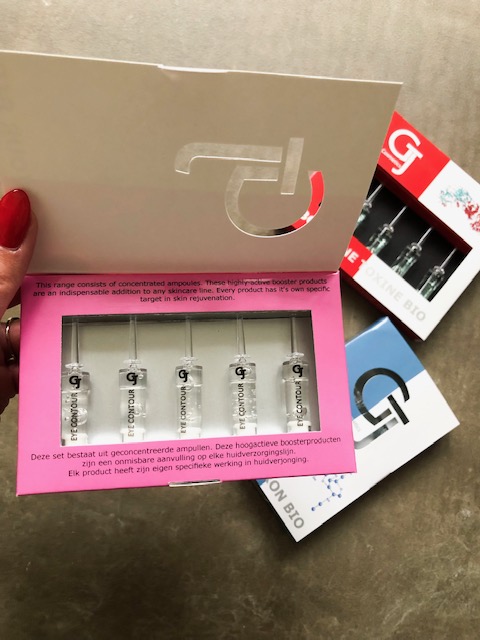 Eye Contour Bio ampoules, stress release in an ampoule! Contains a cocktail of peptides to effectively improve all signs of aging and fatigue around the eyes, especially on dark circles and bags. Contains the natural peptide Haloxyl, which can reduce dark circles and puffiness by 60%.
These ampoules are incredibly handy. Where you normally have to use 1 ampoule in its entirety because it has been broken open, this isn't necessary with these ampoules. You break the top off the ampoule and put it in on the back of the ampoule where there's a kind of pump. Now you can push the desired amount out. The rest of the product remains securely sealed in the ampoule.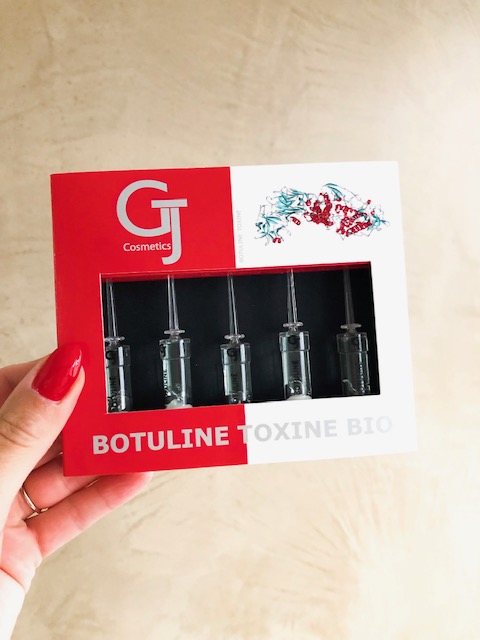 Botulin Toxin Bio, or Fast-acting "Botox" ampoule. Contains a high concentration of Argireline peptide, the ultimate anti-aging ingredient. The ampoule reduces the activity of mimic muscles, resulting in smooth and rejuvenated skin.
Look for more information about treatments and products on Facial Treatment Almere.
XO Frieda
This blog post contains products that I received.
0