Almost everyone loves the sun, it gives you energy, is good for the supplementation of Vitamin D in your body and with a beautiful tanned skin you look better and rested. I've a skin that doesn't burn quickly, I've a lot of pigment and get tanned very quick. Unfortunately after my 2nd pregnancy I get troubled by hyperpigmentation on my forehead. Lucky for me, the development of sun protection is also going fast and now there's a product that protects your skin and active offers a solution against pigmentation.
Institut Esthederm Photo Regul.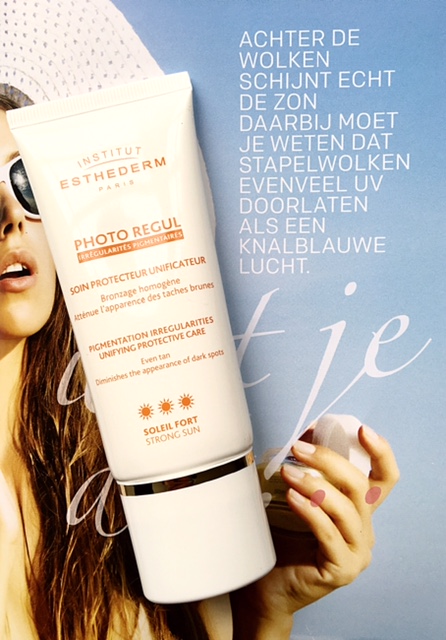 The French brand Institut Esthederm is a luxury brand with over 80 patented formulas being sold worldwide through an exclusive network to luxury department stores, beauty salons and pharmacies.
Fully named: Institut Esthederm Photo Regul Pigmentation Irregularities Unifying Protective Care. The unique feature of this product is that it works With the sun instead of Against the sun. It protects your skin against premature aging and activates the current protection mechanism and inclusion of the good qualities of the sun. The product works with the skin and activates the skin to repair itself. 
The product is specially developed for the skin which is troubled by uneven pigmentation. It brightens the pigmentation in the sun but tans the skin in places where there are no pigmentation marks so you end up with an even tan.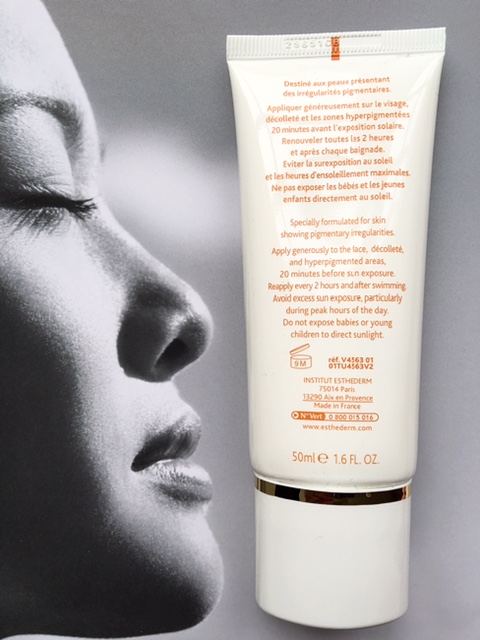 The tube has a capacity of 50ml and the cream is completely perspiration- and waterproof.
How to use.
Apply 20 minutes before sun exposure to cleansed skin on the neck, face and décolleté, then every 2 hours and after swimming for an optimal protection.
Conclusion.
The reviews and stories on this product are all so positive that I can't wait to try this product in the summer. For the ultimate test I really should have had this cream when I was in sunny Florida for 2 weeks ha! It's actually a unnecessary luxury but this cream smells incredibly delicious! The non-greasy and oil-free formula is ideal for my combination skin face, with the Photo Regul I've no problems with shiny skin which I normally have with other sunscreens.
Institut Esthederm Photo Regul is available at vivapura.nl for € 59,95 (50ml).
Other solar products by Institut Esthederm you can find here.
This review contains a product that was sent to me.
0