Because I have highlights put in my hair every 5 weeks, it is important that I take good care of my hair. Recently I have been using the Dr. Organic Moroccan Argan Oil hairline, care with the liquid gold from Morocco. This iconic ingredient from southern Morocco has powerful caring properties. Argan oil is not only a miracle cure for your skin, it also works wonders for your hair. This makes it an ingredient that can no longer be ignored in the beauty world. The pure argan oil that Dr. Organic used for its products contains high concentrations of vitamin E, protective antioxidants, essential fatty acids and amino acids. In combination with specific oils and fruit extracts, this results in richly nourishing and highly effective products for skin and hair care! I'd love to tell you more about Dr Organic's Moroccan Argan Oil Hair Care.
Moroccan Argan Oil
Because part of the Dr Organic hairline is now also available at Kruidvat, we put the Moroccan Argan Oil in the spotlight! This organically certified line is effective in the fight against dry and frizzy hair, repairs damaged hair and gives dull hair shine again. The sensitive scalp also benefits from care with Dr Organic Argan Oil hair products.
When you dye or even bleach your hair like me, you want to use hair care that keeps your hair vibrant and healthy. The argan oil in Dr. Organic does that, it hydrates, protects and strengthens my hair.
For example, if you in the menopause or are going through a period of stress and therefore have more hair loss, the use of argan oil for your hair is also recommended. The Vitamin E in argan oil penetrates deep into the shaft of your hair, where it makes your hair stronger and healthier. It takes care of your scalp, which is important with a lot of hair loss. In addition, vitamin E also offers protection to your hair against external influences, such as the sun.
Dr Organic Moroccan Argan Oil Shampoo
Revitalizes – Hydrates – Softens
This restorative and moisturizing shampoo is formulated with rich organic argan oil from Morocco. The unique combination with extracts and oils from, among others, Aloe vera, Baobab, Kigelia and Hibiscus has resulted in a rich shampoo that gently cleanses and nourishes the hair and restores the hair fibers. The hair becomes smooth and soft again and dry and frizzy hair manageable again. After washing, your hair is vital again and has a healthy shine.
Dr Organic Moroccan Argan Oil Conditioner
Restores – Hydrates – Softens
This restorative conditioner based on organic Moroccan Argan Oil is enriched with extracts and oils from, among others, Aloe Vera, Olive Oil, Wheat Germ Oil, Kigelia and Hibiscus, which revitalize and give volume to thin, dry and lifeless hair. The moisturizing conditioner puts a protective film around the hair cuticle so that your hair not only feels wonderfully soft and gets a fantastic shine, but is also manageable again. The conditioner is also suitable to soothe and care for the sensitive scalp.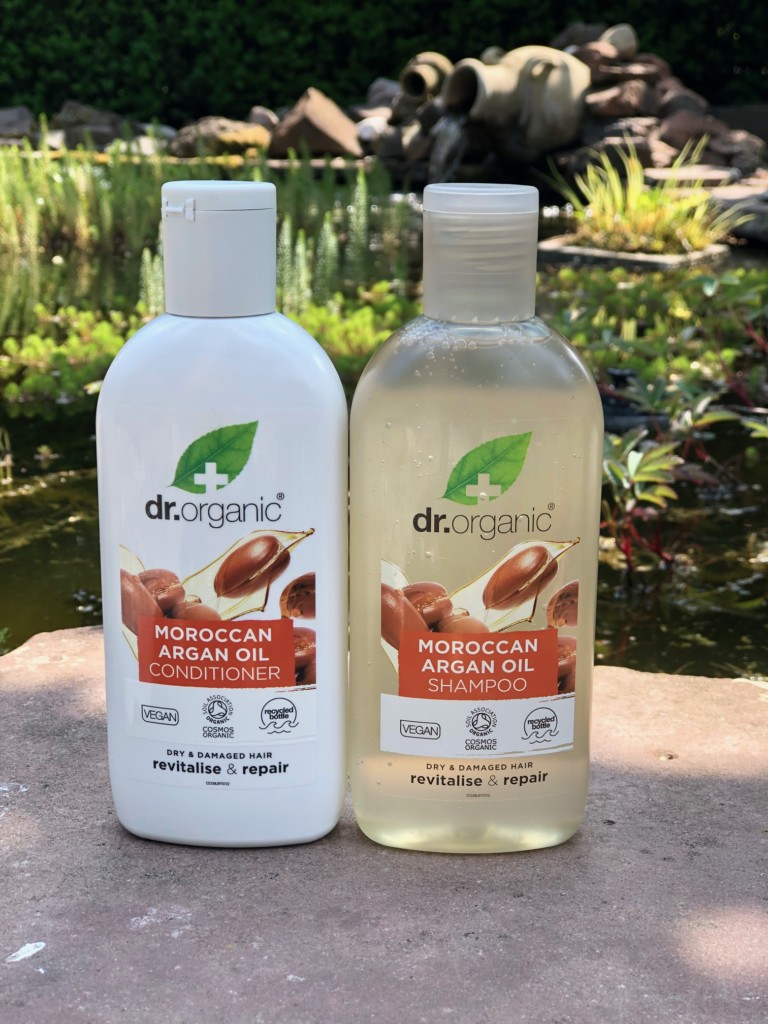 Dr Organic Haircare
Dr Organic COSMOS certified, organic shampoos and conditioners are made to harness the power of nature to nourish and restore your hair. There is a shampoo and conditioner for every hair type and they are all vegan, animal-friendly and sustainably produced. The fragrances are based on essential oils that not only suit your hair type, but also have a positive influence on your mood. Dr. Organic shampoos and conditioners do not contain SLS, silicones, parabens or mineral oils. Instead, cleansing ingredients from coconut oil are used, which together with other botanical extracts promote the health of your hair and provide a fantastic shine. Organic Aloe vera juice has also been added to all formulas to nourish and repair the hair and scalp.
Good to know: the bottles are made from recycled plastic that is collected from estuaries and on the coast. Every year, this prevents around 40,000 kg of plastic from ending up in the ocean! The bottles bear the 'recycled ocean bound plastic' logo, so you can see that your purchase makes a difference!
Prices and availability: various Dr Organic shampoos and conditioners will be available from spring 2023 at Kruidvat stores and Kruidvat.nl. These are the Moroccan Argan Oil Shampoo and Conditioner, Coconut Oil Shampoo and Conditioner, Rose Otto Shampoo and Tea Tree Shampoo. Recommended retail price € 7.49 (265 ml).
Dr Organic hair and skin care products are available at Holland & Barrett and via hollandandbarrett.nl, drorganic.nl and plein.nl.
Dr Organic skin and hair care is COSMOS certified and packaged in bottles made of recycled plastic, it contains only clean ingredients, is largely vegan and is completely sustainably produced, with love for the planet.
XO Frieda
This blog post contains products that I received.
0