Designers Alexandra Fischer-Roehler and Johanna Kühl founded the Berlin fashion label Kaviar Gauche in 2004. The label debuted in 2004 with a guerrilla fashion show for the Parisian shop Colette. Since then, they are internationally renowned. The resulting awards and nominations also took the necessary attention: in September 2006, they received the Visionary Award in London and in that same year they were nominated for the Swiss Textile Award in Zurich. By winning the Karstadt New Generation Award during the Mercedes-Benz fashion week in Berlin 2007, the design duo really broke through internationally. Immediately, Kaviar Gauche was named as one of the 10 most influential German designers. The popular German fashion label is famous for the amazing wedding dresses.
CATRICE Kaviar Gauche.
CATRICE works for the third year with Kaviar Gauche for designing an exclusive makeup collection. This professional collection consists of four brushes supplemented with a gold highlighter and a harmonious eye shadow palette in unique packages wearing the Kaviar Gauche signature.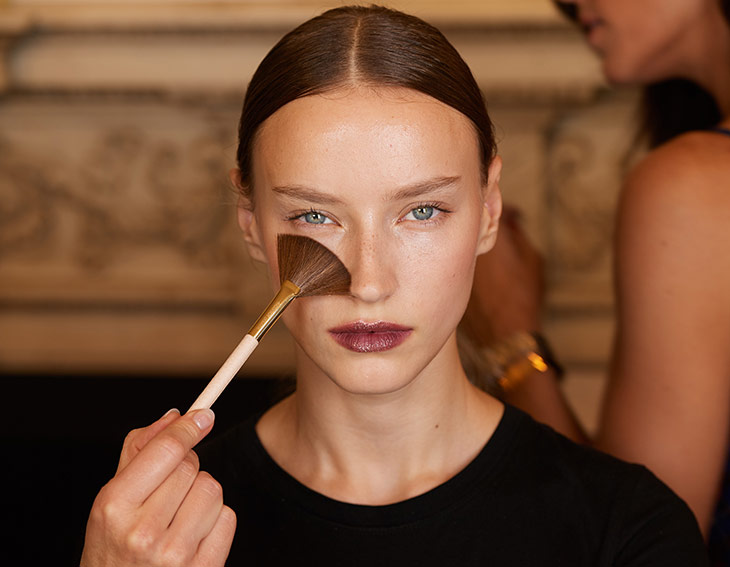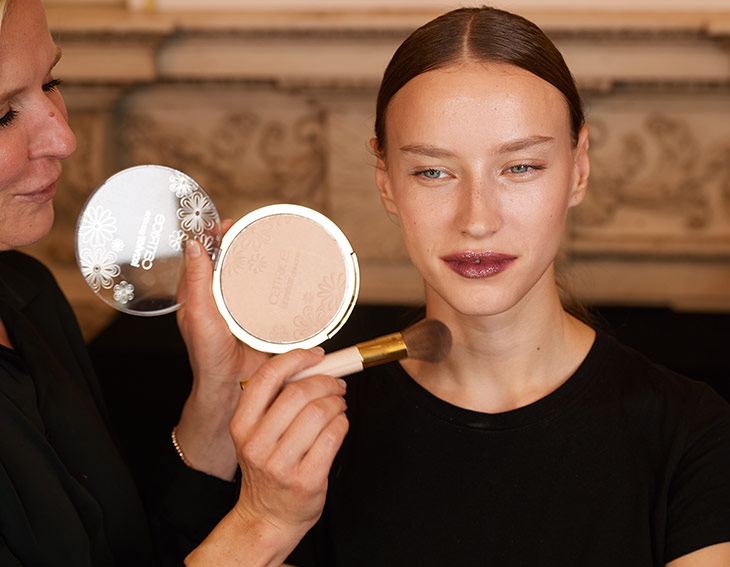 Limited Edition producten.

Catrice Kaviar Gauche Blush & Contour Brush. The brushes all have imitation leather in the middle. The shape of this brush adapts to the shape of your face. An ideal brush to apply blush and bronzer with. Price € 5,59.
Catrice Kaviar Gauche Eye Blender Brush. This brush has very soft hair and is ideal for blending your eye shadow. Price € 3,99.

Catrice Kaviar Gauche Eye Lid Brush. A nice brush to apply your eye shadow with, also works great for your lower eyelash line. Price € 3,99.
Catrice Kaviar Gauche Highlighter Brush. A nice brush for applying powder textures, such as a highlighter. Price € 4,99.
Catrice Kaviar Gauche Eye Shadow Palette C01. A palette with 4 neutral shades that are nicely matched, the first 3 being shiny and the last one is matte. Price € 5,99. 
Catrice Kaviar Gauche Highlighter C01. This gold highlighter has a silky texture and gives a radiant glow thanks to light reflective pigments. Price € 5,99.
The CATRICE Kaviar Gauche makeup collection looks chic with the gold accents. With a small budget you can have the entire collection. For the brushes there's also a brush bag in the collection (not pictured), there's room for 5 brushes, made of imitation leather in a beautiful nude color.
The Catrice Kaviar Gauche collectie is from November 2017 to January 2018 available at Kruidvat and Trekpleister.
0