Upgrade your skin care and see the difference with the new Vitamin C Paste from Alpha-H. This new vitamin C serum in cream form contains 10% ascorbic acid; an exceptionally high dose of the most effective, because skin identical form of vitamin C, processed in an anhydrous cream for maximum stability. Zero percent water, one hundred percent stable.
ALPHA-H VITAMIN C PASTE
10% SKIN IDENTICAL VITAMIN C IN A WATER-FREE FORMULA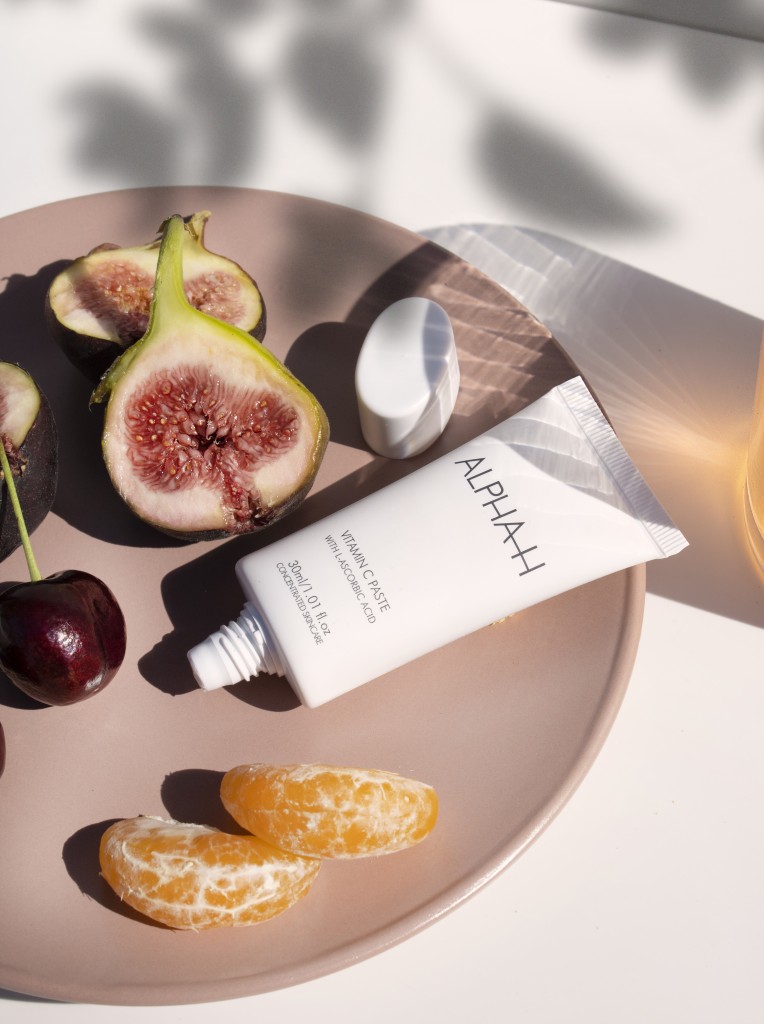 Vitamin C is one of the most beautiful and useful ingredients for your skin, but at the same time a tricky one. It gives collagen production a boost, reduces pigmentation and protects against free radical damage from, for example, the sun. However, it is difficult cause it is very unstable and falls apart at the slightest bit of light, air or moisture; with the release of free radicals as a result. In addition, there are many different types of vitamin C, each with its own degree of irritation and stability problems.
However, ASCORBIC ACID (L-ascorbic acid) is the only form of vitamin C that occurs naturally in the skin. It is therefore immediately recognized and absorbed by your skin. That makes it, compared to other forms of vitamin C, the most efficient and effective. Another plus: ascorbic acid is the most stable form of vitamin C. Normally, vitamins lose their effect when exposed to light, air or water. Not ascorbic acid. It is the only type of vitamin C which remains completely stable and intact as long as it doesn't come into contact with water. Smart, anhydrous formula of Vitamin C Paste offers the perfect solution. By incorporating ascorbic acid into an anhydrous formula, Alpha-H has created a vitamin C product that is 100% stable, effective and effective; from the first to the last use. Then the vitamin C itself is only free – activates itself – in contact with the natural moisture in the skin.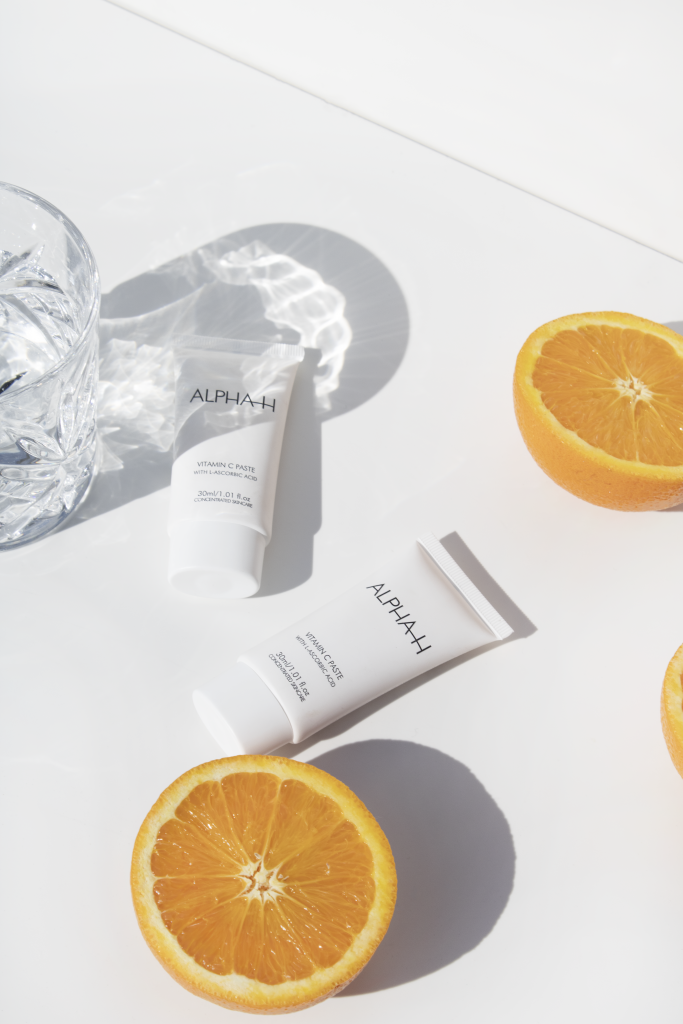 Pure ascorbic acid that arrives in the skin in a stable form provides an unrivaled powerful effect on different levels. As a fruit acid, it causes exfoliation of dead skin cells and pigment present on the skin surface, causing discoloration to light up. At the same time, it inhibits the formation of new pigment, which helps prevent new discolorations, and it reduces the oxidation (the darkening) of existing pigment spots. The same antioxidant power also helps protect the skin against environmental factors that trigger pigmentation, such as air pollution and the sun.
Laboratory studies have shown that ascorbic acid improves the effect of an SPF. The topical application of 10% ascorbic acid resulted in 52% less redness caused by UVB and up to 40-60% less cell death (apoptosis). In short: by combining an SPF with Vitamin C Paste, the skin is protected even more effectively against the harmful effects of the sun.
Ascorbic acid also provides a huge boost to collagen production and better-quality collagen. Thanks to the more efficient hydroxylation, more stable collagen fibers are formed. It also reduces bleeding, redness and is anti-inflammatory. It is therefore indispensable to prevent inflammatory reactions after, for example, injectables, micronedling, peels and laser treatments. This type of treatment is often used to tackle pigment problems. However, the post-treatment inflammatory responses that may follow may, in turn, lead to hyper pigmentation and scars, creating a vicious circle. Vitamin C Paste is therefore indispensable if you undergo this type of treatment; to prevent these possible side effects.
The intelligent formula of Vitamin C Paste consists of only 6 ingredients, including SHEA BUTTER. The high content of fatty acids in shea butter makes it an effective moisturizer and an excellent adjuvant in skin care products: the soft, buttery structure melts in the skin, acts as a buffer for the (ascorbic) acid and keeps the skin's own protective layer intact, allowing the skin to better absorb the active ingredient.
Vitamin C Paste is suitable for all skin types, in particular the normal to dry and / or mature skin that visibly suffers or starts to suffer from collagen loss (sagging), sun damage and pigmentation. Vitamin C Paste has the texture of a cream, but acts as a serum. It is also an excellent primer for makeup: it absorbs immediately and literally leaves a silky skin, with a mattifying, soft focus effect. Vitamin C Paste is economical to use. Is it going to "go crazy"? Then you use too much. A nice indicator to use less next time; less is more!
USE: apply a thin layer on a clean, dry face, neck and décolleté morning and / or evening. Allow to absorb well and follow up with your favorite Alpha-H day / night cream. When used in combination with other serums: first apply and seal with Vitamin C Paste. Slight redness or tingling may occur; this is normal and disappears as the skin gets used to the product.
TIP: build up use with sensitive skin, start using every other day. There can never be an allergic reaction to the ascorbic acid, as this naturally occurs in the skin. In fact, ascorbic acid is often used for allergic (skin) reactions. It counteracts the action of histamine, a substance that the body produces when allergic reactions occur.
Conclusion.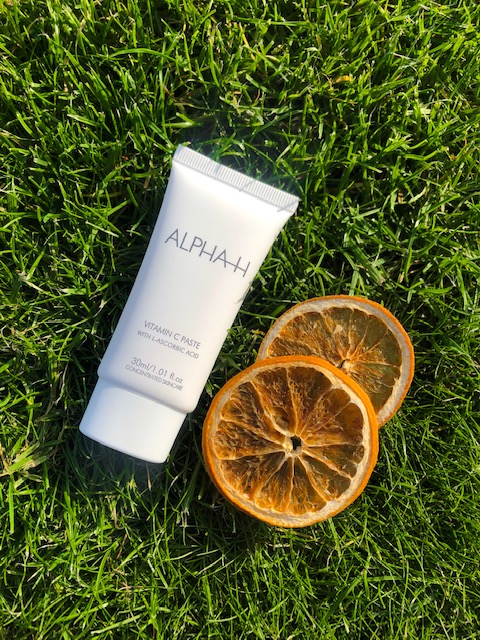 This serum applies like a primer and that is how it feels on the skin. It absorbs quickly and gives a velvety skin. This serum is ideal for my skin, it keeps my skin nice and matte during the day. At the same time it gives my collagen production a boost, what more do you want!
Alpha-H Vitamin C Paste 30ml | €42,95 at Cult Beauty.
XO Frieda
This blog post contains products that I received.
1