CATCH A COLD? KLEENEX WILL BOOST YOU UP AGAIN!
Now that the first flu wave of 2018 is officially a fact, you can't have too much tissues with you. The gray winter days and low resistance take their toll. But fortunately there's Kleenex to cheer up unfortunate people again! Via www.mijnkleenex.nl you can apply for an uplifting cold pack. Let the winter come!
Kleenex start sympathetic boost action.
How does it work?
Have a cold or the flu? Then go to www.mijnkleenex.nl. Here you choose what you are looking for when you have a cold: a bit of love, a steam bath, sun, a vitamin shot or chocolate. Then you get a Kleenex box sent home: a storage box containing a package of Kleenex Balsam tissues and a coupon for a free pack of Kleenex Balsam tissues at Kruidvat. The Kleenex campagne lasts until 11 March 2018 or as long as the stock lasts.
Well on the way.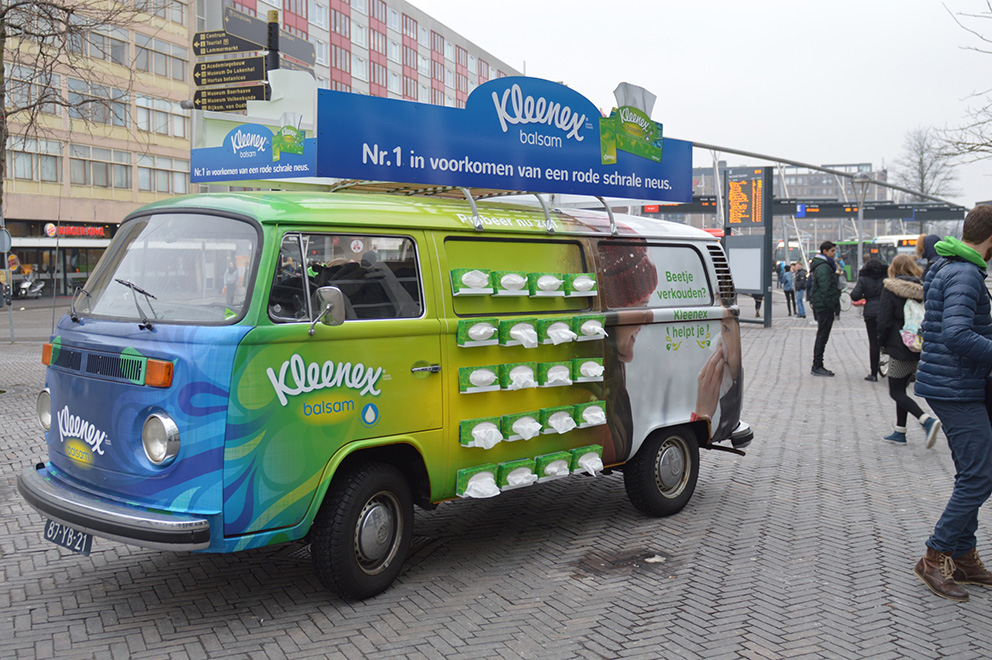 Have a cold and still go to work, school, supermarket or appointment? The Kleenex team helps the flu-like traveler on the right track! During 8 weeks, the Kleenex Pick-up van runs through the country to defy the flu wave with Balsam tissues. Need a boost? You will find the enthusiastic team in the following locations (The Netherlands):
Woensdag 17 January – Gedempte Gracht Zaandam
Donderdag 18 January – Winkelcentrum Eggert Purmerend
Vrijdag 19 January – Achterom Dordrecht
Zaterdag 20 January – De Diagonaal Almere
Zondag 21 January – Eendrachtsplein Rotterdam
Dinsdag 13 February – Overvecht Utrecht
Woensdag 14 February – Brusselse Poort Maastricht
Donderdag 15 February – Willemsplein Arnhem
Vrijdag 16 February – Middenwaard Heerhugowaard
Zaterdag 17 February – Varkensmarkt Amersfoort
Zondag 18 February – Binnenstad Haarlem
Maandag 19 February – Stationsplein Eindhoven
Dinsdag 20 February – Helftheuvelpassage 's Hertogenbosch
Woensdag 21 February – Winkelcentrum Dukenburg Nijmegen
Donderdag 22 February – Waterlandplein Amsterdam
Vrijdag 23 February – Binnenstad Delft
Zaterdag 24 February – Winkelcentrum Jorishof Ridderkerk
Zondag 25 February – Kasteelplein Breda
Avoid a red nose!
Kleenex Balsam is the number 1 in preventing a red and irritated nose. Anyone who has a cold needs softness and love. The microfine layer calendula with a calming and protective balm prevents your nose becoming red or dry out. They are dermatologically tested and even suitable for sensitive skin. Kleenex Balsam tissues are available in tissues and handkerchiefs.

www.mijnkleenex.nl
XO Frieda.
0